By Cooper Langford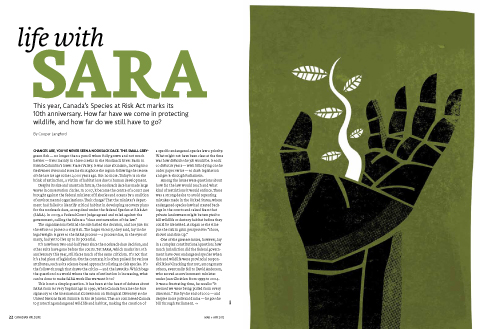 Chances are, you've never seen a nooksack dace. This small grey-green fish — no longer than a pencil when fully grown and not much heftier — lives mainly in three creeks in the Nooksack River Basin in British Columbia's lower Fraser Valley. It was once abundant, moving into freshwater rivers and streams throughout the region following the retreat of the last ice age some 12,000 years ago. But no more. Today it is on the brink of extinction, a victim of habitat loss due to human development.

Despite its size and uncertain future, the nooksack dace has made large waves in conservation circles. In 2007, it became the centre of a court case brought against the federal minister of fisheries and oceans by a coalition of environmental organizations. Their charge? That the minister's department had failed to identify critical habitat in developing recovery plans for the nooksack dace, as required under the federal Species at Risk Act (SARA). In 2009, a Federal Court judge agreed and ruled against the government, calling the failure a "clear contravention of the law."

The organizations behind the suit hailed the decision, and not just for the effort to protect a tiny fish. The larger victory, they said, lay in the legal weight it gave to the SARA process — a process that, in the eyes of many, had yet to live up to its potential.

It's now been two-and-half years since the nooksack-dace decision, and more court cases have followed. Yet SARA, which marks its 10th anniversary this year, still faces much of the same criticism. It's not that it's a bad piece of legislation. On the contrary, it is often praised for its transparent, science-based approach to listing at-risk species, among other qualities. It's the follow-through that draws the critics — and the lawsuits. Which begs the question : in a world where the rate of extinction is increasing, what can be done to make SARA work like we want it to?

This is not a simple question. It has been at the heart of debates about SARA from its very beginnings in 1992, when Canada became the first signatory to the international Convention on Biological Diversity at the United Nations Earth Summit in Rio de Janeiro. That act committed Canada to protecting endangered wildlife and habitat, making the creation of a specific endangered-species law a priority. What might not have been clear at the time was how difficult the job would be. It took 10 difficult years — with bills dying on the order paper twice — to get legislation through Parliament.

Among the issues were questions about how far the law would reach and what kind of restrictions it would enforce. There was a strong desire to avoid repeating mistakes made in the United States, where endangered-species law had created backlogs in the courts and raised fears that private landowners would be inclined to kill wildlife or destroy habitat before it could be identified and subject to enforcement. A slogan at time put the risk in grim perspective: "shoot, shovel and shut up."

One of the greatest issues, however, lay in a complex constitutional question: how much jurisdiction did the federal government have over endangered species when fish and wildlife were provincial responsibilities? Cracking that nut, among many others, eventually fell to David Anderson, who served as environment minister under Jean Chrétien from 1999 to 2004. It was a frustrating time, he recalls: "It seemed we were being pulled from every direction." But by the end of 2002 — and despite more political drama — he got the bill through Parliament.

That the resulting legislation didn't satisfy everyone is hardly surprising; SARA was criticized for not going far enough to protect critical habitat and its direct application only to federal lands, acquatic species and migratory birds. But it also contained many commendable features. For starters, it delegated the authority to assess wildlife to an independent body — the Committee on the Status of Endangered Wildlife in Canada (COSEWIC) — ensuring the determination of at-risk species would be based on science, not politics. It also made politicians accountable. The federal Cabinet — or Government in Council — would determine whether species would be listed under SARA. If its decisions went against COSEWIC assessments, however, it was required to publicly declare its reasons within 90 days.

Moreover, SARA emphasized stewardship. Having seen the controversies ignited by U.S. legislation, the Canadian act used carrots rather than sticks so that multiple stakeholders would collaborate in the development of recovery plans. It also contained discretionary provisions to compensate landowners in certain cases.

Lastly, on the jurisdictional front, SARA gave. Ottawa discretionary power — a "safety net" —to act if provinces failed to provide adequate protection on their own.

All of this came wrapped in a process that, in the words of Stewart Elgie, an environmental lawyer and associate director of the University of Ottawa's Institute of the Environment, can be summarized in four simple principles: "Identify species at risk. Don't kill them. Give them a home. And help them recover."

To achieve these goals, SARA stated that as soon as a species was listed as threatened, endangered or extirpated, it would become illegal to harm it or destroy its "residence." Next, it would be the subject of a recovery strategy, including the identification of critical habitat to the extent possible. Finally, an action plan would be developed to put recovery measures in place.

But it's one thing to create a process. It's another to use it. And there lies the rub for evaluating SARA's success. Once species move deeper into the process, the success of SARA begins to wane. Only about half of the listed species have received recovery strategies, Elgie says, and only half of that subtotal have their critical habitats identified. As for the number that have run the full gamut of the act — well, that offers even less to brag about.

One of the problems, he continues, lies in the number of "off-ramps" SARA provides during its process. As it moves along, decision-making becomes more discretionary, less defined or less transparent. The result is a system that bogs down. The federal government, for instance, is way behind in developing recovery strategies for listed species, which are due within a year for species listed as endangered, and two years for those listed as threatened or extirpated. As for the act's safety-net provisions, they have yet to be used.

Cleary, SARA's track record shows there is need for improvement, which could include firmer deadlines, greater transparency and, perhaps, less discretionary powers. But in seeking improvements, it's important to keep SARA's successes in mind. According to research by Elgie and colleagues, for instance, SARA enjoys a high success rate for listing species identified as at risk by COSEWIC. That compares positively with the records in provinces where legislation does not require governments to explain their decisions not to list a species. In those instances, the number of species assessed as at-risk to gain listing falls to about half of the federal benchmark.

SARA has also been a force in supporting the conservation ethos. Since SARA's passage, nine provinces have either adopted or strengthened their own endangered-species laws, in some cases going further than the federal law. That's significant given that the majority of at-risk species live on provincial lands. Additionally, its focus on stewardship proves that conservation issues do not have to be adversarial and that diverse stakeholders can work toward a common cause. "I personally think the act has been a modest success. It's been a good teaching tool," David Anderson says. "If we didn't have it, we'd be in a lot more trouble."

But the bottom line remains this: If SARA is to be more effective, it needs to be worked harder. A major step could be made by simply supplying more resources, such as staff and budgets to government departments charged with SARA's implementation. That would give them a better shot at meeting timetables and completing processes.

Ottawa also needs to demonstrate its political commitment to the act. Increased support for its implementation is part of the solution. But it also needs to show a willingness to use its powers when necessary. The fact that it has yet to use SARA's safety net provisions suggests the preferred tactic is walking softly, but without a stick.

In the final analysis, though, it should be recognized that it takes time to learn how to work with legislation and for its influence to spread. SARA may be 10 years old, but it is a complex law that raises complex challenges. We must learn to meet them if the law is to be most effective. Ultimately, we must also recognize that no single piece of legislation offers a panacea for meeting the challenges of conservation. We should value SARA for what it can achieve and work toward turning that potential into reality. Here's hoping for the day when it doesn't take a lawsuit to protect a species like the nooksack dace.