By Tobi McIntyre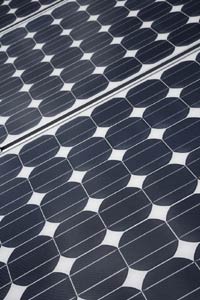 At CWF we took another step to reduce our carbon emissions by installing solar panels on the roof of our Kanata, Ontario office building this spring.
The solar panels will each produce eight to 10 kilowatt hours (KW-H) per day — enough energy to supplement office equipment and lighting — and will eliminate more than two tonnes of carbon emissions per year.
But this is just a start. As community leaders, CWF staff are hoping to expand the number of solar panels on our grid-tie system — the first in the Ottawa area — to further decrease our dependence on the power grid and even give back to the system.
Climate change is real and we at the CWF — like the rest of Canadians — are ready to move forward and make changes. This action is one of many we have both planned and implemented — such as offsetting the emissions caused in the production of Checkerspot magazine — in our commitment to reduce our footprint.
Facts
CWF panel specs
Each CWF panels is a 200-watt Sanyo solar panel
The array produces 350 volts and 7.1 ampeves of power per day
This system will produce approximately eight to 10 KW-H per day
How they work
The power from the panels is direct current (DC) electricity.
This power goes to an inverter that changes the DC to alternate current (AC) power.
The AC power is fed directly into the electrical system of the building.
If the system makes more power than the building consumes, it sends power back out onto the electrical grid, where others can use it.
General
When grouped, solar panels form an array.
The amount of sunlight the earth receives in one year has 20 times the power output of all the known reserves of coal and oil combined.
A solar panel has the ability to convert this energy into electricity we can use in our homes and businesses.
A single solar panel two feet wide and four feet long produces enough power to run your TV for four to five hours per day, on a sunny day.