By Aaron Kylie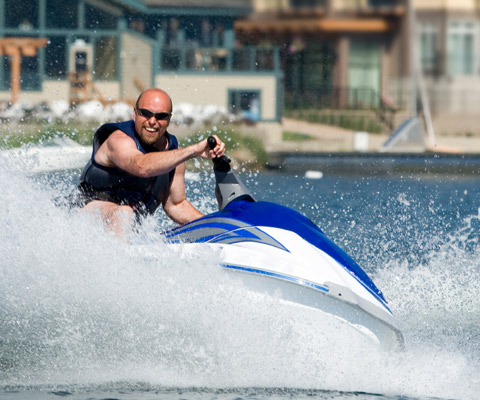 Going to the lake is a favourite summer pastime of countless Canadians. And for many, that includes participating in some sort of water sport, from boating to fishing to water skiing. But almost all water sports can adversely affect the environment. Here are four significant ways that playing on or in our waters can threaten our wildlife spaces and species, along with tips on how to reduce your impact.
Trash Talk
Litter is one of the principal sources of water pollution; it can harm countless species of wildlife, including fish, waterfowl and mammals of various sizes. No matter what water sport you're into, you've likely come across some sort of trash in the water, from cigarette butts to pop cans and beer bottles right on up to the proverbial kitchen sink (just ask any stream angler). While most water-sport enthusiasts know better, they should remember to never toss anything into the drink – even those seemingly harmless apple cores should go home with you to the composter – and remind others the same. Finally, don't be afraid to be proactive: pick up and properly dispose of any litter you find that someone else left behind.
Quiet Down
It's hardly surprising that those noisy jet skis disturb wildlife as much as or more than they do some people. Studies in the U.S. have found that the noise from personal watercraft causes nesting osprey and terns to fly away from their nests, leaving their eggs vulnerable to predators, and generally leads to undue panic in birds and mammals. Many jet skis are also powered by relatively inefficient two-stroke engines, which pollute the air and water. In fact, the U.S. Environmental Protection Agency reports that two-stroke engines are America's number-one source of toxic water pollution. That said, even human-powered watercraft can affect wildlife behaviour. A recent Austrian study found that the presence of local canoeists impacted the behaviour of grey and silver herons. It's also important for anglers who release their catch to do so carefully to ensure the fish the best chance of survival. This means handling fish as little as possible, using a net with rubberized netting that won't harm their protective coatings, using a cradle-style net on larger fish (those too big for conventional nets) and releasing them quickly.
Imperfect Strangers
All boaters, be they anglers, recreational power boaters, sailors, canoeists or kayakers, should inspect and clean their watercraft when they move it from one body of water to another. They should also remove any aquatic weeds or creatures attached to the boat's hull. Many invasive species, such as zebra mussels, are spread by attaching themselves to boats that are transported from one water body to another (for more on invasive species, see "When Aliens Invade". Studies suggest that some invasive species may also spread by attaching to fishing gear, so anglers should wash and rinse their boots and waders before they use them again in another lake or stream.
Pollution Solution
Beyond producing simple litter, any water sport that involves a powerboat is going to have a negative effect on the environment thanks to the gas-fuelled engine. Marine motors produce five major classes of emissions that can harm the environment. Many such motors are of the two-stroke variety. And a 70-horsepower two-stroke outboard motor emits the same amount of hydrocarbon pollution in an hour as a new car does after driving 8,000 kilometres, according to Environment Canada. While they still pollute, four-stroke engines are far more environmentally friendly, so boaters should consider limiting the use of two-stroke engines, or replacing them with four-strokes. In fact, many outboard-motor manufacturers are introducing more environmentally friendly engines every year. Regardless of the type of motor powerboats use, operators should do the following to reduce their impact on our ecosystems: keep the engine tuned, follow the recommended service schedule, properly match engine horsepower to vessel size, reduce idling, use the right size of propeller, reduce stops and starts and keep the hull clean and waxed to decrease drag and increase fuel efficiency. As with most water sports, there are many small changes power boaters can make that will help reduce their impact on water and wildlife.
For more ways you can help Canada's water and wildlife, visit www.CanadianWidlifeFederation.ca, and make a donation to CWF.