By Cooper Langford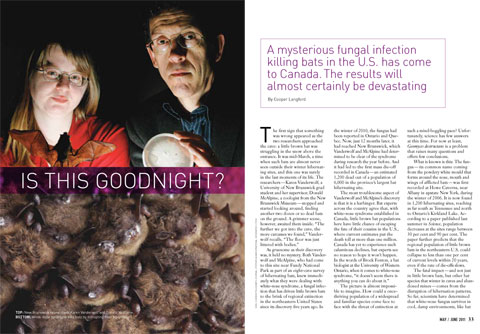 The first sign that something was wrong appeared as the two researchers approached the cave: a little brown bat was struggling in the snow above the entrance. It was mid-March, a time when such bats are almost never seen outside their winter hibernating sites, and this one was surely in the last moments of its life. The researchers — Karen Vanderwolf, a University of New Brunswick grad student and her supervisor, Donald McAlpine, a zoologist from the New Brunswick Museum — stopped and started looking around, finding another two dozen or so dead bats on the ground. A grimmer scene, however, awaited them inside. "The further we got into the cave, the more carcasses we found," Vanderwolf recalls. "The floor was just littered with bodies."
As gruesome as their discovery was, it held no mystery. Both Vanderwolf and McAlpine, who had come to this site near Fundy National Park as part of an eight-cave survey of hibernating bats, knew immediately what they were dealing with: white-nose syndrome, a fungal infection that has driven little brown bats to the brink of regional extinction in the northeastern United States since its discovery five years ago. In the winter of 2010, the fungus had been reported in Ontario and Quebec. Now, just 12 months later, it had reached New Brunswick, which Vanderwolf and McAlpine had determined to be clear of the syndrome during research the year before. And it had led to the first mass die-off recorded in Canada — an estimated 1,200 dead out of a population of 6,000 in the province's largest bat hibernating site.
The most troublesome aspect of Vanderwolf and McAlpine's discovery is that it is a harbinger. Bat experts across the country agree that, with white-nose syndrome established in Canada, little brown bat populations here have little chance of escaping the fate of their cousins in the U.S., where current estimates put the death toll at more than one million. Canada has yet to experience such calamitous declines, but experts see no reason to hope it won't happen. In the words of Brock Fenton, a bat biologist at the University of Western Ontario, when it comes to white-nose syndrome, "it doesn't seem there is anything you can do about it."
The picture is almost impossible to imagine. How could a once thriving population of a widespread and familiar species come face to face with the threat of extinction at such a mind-boggling pace? Unfortunately, science has few answers at this time. For now at least, Geomyces destructans is a problem that raises many questions and offers few conclusions.
What is known is this: The fungus — its common name coming from the powdery white mould that forms around the nose, mouth and wings of afflicted bats — was first recorded at Howe Caverns, near Albany in upstate New York, during the winter of 2006. It is now found in 1,200 hibernating sites, reaching as far south as Tennessee and north to Ontario's Kirkland Lake. According to a paper published last summer in Science, population decreases at the sites range between 30 per cent and 90 per cent. The paper further predicts that the regional population of little brown bats in the northeastern U.S. could collapse to less than one per cent of current levels within 20 years, even if the rate of die-offs slows.
The fatal impact — and not just in little brown bats, but other bat species that winter in caves and abandoned mines — comes from the disruption of hibernation patterns. So far, scientists have determined that white-nose fungus survives in cool, damp environments, like bat hibernation sites. When it grows on hibernating bats, it causes them to wake more frequently, which is where the problems begin. Healthy hibernating bats do rouse from their torpor periodically to warm up or drink, but these periods are necessarily brief because they are costly in terms of energy stored in body fat. Bats afflicted with white nose appear to spend more time in states of arousal, using up their fat reserves and starving before spring. Fungus growth on wings may also interfere with the bats' ability to absorb water, leading to dehydration.
Beyond this, little is known for certain about white-nose syndrome, although bat researchers across North America are grappling with its mysteries in hopes of improving the chances of survival for affected species. Among them is a team led by University of Winnipeg biologist Craig Willis. This past winter, Willis's group completed the first phase of a two-year experiment exploring fundamental questions about white nose and its effect on bats. The work is being conducted in a biohazard lab at the Western College of Veterinary Medicine in Saskatoon. There, Willis and his group have set up three environment chambers that mimic the cave conditions of hibernating bats. Each chamber contains a group of 18 bats, one set inoculated with the whitenose, a second group inoculated with the European strain of the fungus (which for some unknown reason does not harm the continent's bat populations) and a control group. From this work, Willis hopes to unravel several mysteries, such as whether white-nose syndrome is directly responsible for bat mortality, whether some bats can survive the disease and, if so, whether their traits can be passed on to offspring.
At this point, Willis is still gathering data and only beginning to analyze results from the first year of his experiment. He says, however, that unpublished research points toward some conclusions. Evidence is growing, for example, that bats can pass the fungus amongst each other and that white-nose syndrome is the cause of mortality rather than a symptom of an underlying problem. But even with this progress, he is not optimistic about the future. "On a wide scale, it's unlikely that we're going to have anything like the little brown bats we used to have," he says. "Whether we will have them at all, I think, is what we're trying to figure out now."
Indeed, as more becomes known about white-nose syndrome, it seems that little can be done in terms of mitigation. In 2009, Willis published a paper with Justin Boyles at the Center for North American Bat Research and Conservation, reporting that computer models indicated that installing heaters in some affected hibernating sites could improve the chances of some bats surviving winter. But even then, they noted this might only be effective as a stop-gap measure in limited areas to help protect remnant bat populations.
Beyond that, scientists in the U.S. are campaigning to have federal authorities list little brown bats as an endangered species, which would release funding for research in addition to the $4 million the U.S. Fish and Wildlife Service has already invested. Meanwhile, 17 states have closed caves to the public in an effort to prevent human transmission of the fungus between sites. Similar efforts are underway in Canada. In the end, however, it's unlikely any of these measures will ultimately spare bats in regions at risk of white-nose syndrome from the mass die-offs that have occurred in the northeastern U.S.
It's possible that the gruesome events of the past few years are just part of natural cycles of species extinction that occur from time to time. But that explanation doesn't carry much weight with white-nose researchers. A widely held thesis is damning: that the fungus, which does affect people, is an invasive species that was possibly introduced to North America on the boots of an unsuspecting cave visitor from Europe. In other words, that human carelessness may be ultimately responsible for the unfolding tragedy.
Amid the gloom, however, there are tiny slivers of hope. Vanderwolf, for instance, says unpublished research in the U.S. suggests bat mortality rates in New York State appear to be bottoming out for now. And at very least, the research being conducted today may hold value for conservation efforts in the future. There is still much to learn about bats, but now — out of terrible necessity — some of those gaps are finally starting to close.
Karen Vanderwolf was a 2009 recipient of the Canadian Wildlife Foundation's Orville Erickson scholarship.