By Stephanie Bonner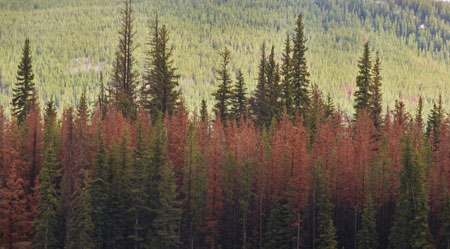 Mountain pine beetle infestation is killing trees at an alarming rate in Western Canada. Once helpful to Canada's forests, the mountain pine beetle, Dendroctonus ponderosae, has become a hindrance due to Canada's changing climate. The mountain pine beetle formerly aided new forest growth by getting rid of older, weaker trees and making way for new ones. In previous winters, cold temperatures kept the mountain pine beetles' population in check, while every spring the smaller surviving population would aid our forests. As the climate is warming on a global scale, the winters that once controlled this population are less harsh allowing the spring population of pine beetle to grow.
The beetle is about the size of a grain of rice, dark in colour and cylindrical in shape. It kills trees by boring into the bark tunneling within the tree and laying its eggs. The larvae that hatch then feed outwardly from the tunnels. Between these tunnels and a fungus that the beetle emits, trees are not able to garner the nutrients they need to survive. The larvae live in the tree over winter and move onto a new host tree to bore into come spring, leaving the trees they leave behind to die.
With millions of trees dying at such an alarming rate, the impact this destructive beetle will have on wildlife habitat can't be forgotten. There is no doubt that this epidemic has gotten out of control as a result of the changing climate. While we can't control how cold our winters will be this year, remember that you can make a difference to reduce your footprint in our forest and across the globe.
To find out about the small changes you can make, visit Checkerspot Magazine and sign up for your free subscription!
Tell us what you think!
Your comments: