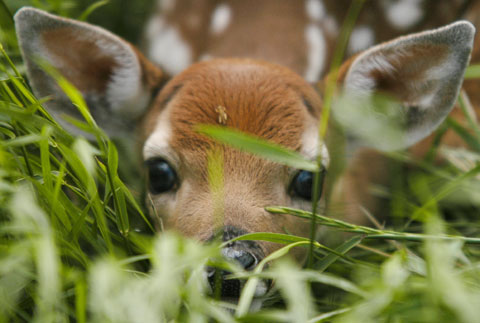 It's springtime again, the season when people most often stumble upon wild baby birds or mammals. Many times these babies are alone, causing people to think they are orphaned or injured and in need of help. It's a kind-hearted reaction to want to pick them up, but before you act, keep this in mind:
It's best for every wild baby to be left alone unless visibly injured, definitely in jeopardy (from pets or hot sun) or you are absolutely certain that it has been abandoned by its mother. In these cases, your best course of action is to call the nearest reliable wildlife help line for advice before you do anything (more on this later).
We'd really like to stress that in most cases, wild babies should be left alone. Unlike human babies, many wild animals are left alone for long periods during the day. Although it seems strange to us, this is a normal part of their upbringing. Their parents are either finding food or they are deliberately staying away from the nest to avoid attracting predators.
This behaviour is especially common in mammals. For example, rabbits often stash their young in shallow grassy nests and only visit to feed them early in the morning and at dusk. Another good example is deer. Fawns left curled up in long grass are well concealed and have very little scent of their own. Their mothers return to suckle them, but only as much as is necessary because they must avoid putting their young at risk by leaving a scent trail. One must think twice about even touching a fawn because a human scent on it may cause the mother to abandon it.
Parent birds also leave their babies alone as part of their "flight training" when they have become fledglings (partially feathered baby birds that are beginning to leave the nest). They often jump from the nest and fall during their first flight. Don't be alarmed if you see a lone fledgling chirping and fluttering on the ground. It's only telling its mother where it is. Chances are the mother is still feeding it and taking care of it.
So what if you need to call your local wildlife rehabilitator, and you don't know who that is? Just call CWF at 1-800-563-WILD (9453) and we'll consult our list for you. (It would also be a good idea to call Aspen Valley Wildlife Sanctuary at 1-705-732-6368 for help. They have a list of rehabilitators in parts of Ontario, Quebec and British Columbia.)