November 10, 2015
By Sean Brillant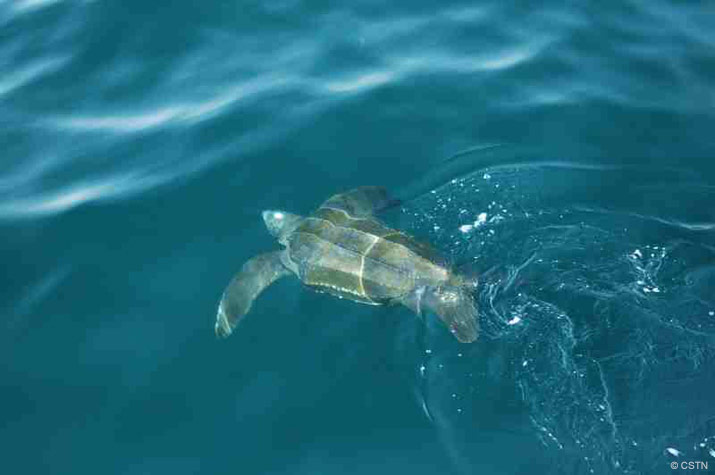 How do leatherbacks swim in a straight line with no features/cues that we can see? The visibility in the ocean is metres!
Have you ever wondered how leatherback turtles manage to migrate across the vast expanse of ocean without any visible landmarks – in a relatively straight line no less? It is a phenomenon that has intrigued scientists and researchers for years and the answer to this magnificent riddle of nature is equally fascinating.
While we mere mortals rely upon GPS systems and crumpled up road maps to help us reach our destinations, the leatherback possesses a biological compass to find their way around. Some hypotheses suggest that this internal compass is somehow attuned to the magnetic poles. However, the turtle's ability to stay on track in even the murkiest of conditions suggests that more is at play in this epic scenario. Leatherbacks may also be able to use wave direction to navigate, as well as the ability to recognize geographical markers. The fact that they can return to their own nesting beach despite having spent several years in open waters suggest quite strongly that some sort of physical memory is present.
Growing familiar with the various ocean currents is another leatherback talent that helps them to travel; a skill that is somewhat akin to our knowledge of different highway routes on land.
The leatherback's ability to swim thousands of kilometres in open water to return to the site of its infancy will make this creature's migration one of the most incredible on the planet.
Researchers at the Canadian Wildlife Federation and the Canadian Seaturtle Network have made it possible for you to follow along with four female leatherbacks as they make a beeline to their southern wintering grounds. Will they nest? You'll have to follow the Great Canadian Turtle Race to find out!