September 13, 2012
By Claire Preston
Mass migration is one of the great wonders of the animal kingdom. How do these creatures do it? What does it take to prepare for the treks that span oceans and continents? How do they coordinate and know where to go? Read on to find out how five species take on this challenge year after year, successfully migrating across the globe and back again.
Arctic Tern
This incredible little bird (above) is the champion of long-distance migrations, flying from its Arctic breeding grounds to the Antarctic and back again each year (covering a distance of approximately 40,000 kilometres, round trip). Juveniles make this migration with their parents, often within 10 days of fledging, which is only about a month after they are born— how's that for a family vacation! Before heading out, the tern feeds as much as possible on small fish and crustaceans to store up extra fat, providing energy for the long trip. As they prepare for migration, the terns begin to flock and gather in seemingly predetermined areas and orient themselves in the direction they intend to travel. These birds are well adapted to this journey, making brief stops in areas in the middle of the Atlantic ocean that provide ample food sources for refuelling.
Pacific Tuna
Photo: OpenCage.info
Pacific tuna migrate on a yearly cycle, but they don't necessarily return to their spawning grounds each year. In the first few years of life, tuna leave their spawning grounds off the coast of southern Japan and make the extensive trans-Pacific migration to the eastern Pacific Ocean off California and Mexico (roughly a 10,790 kilometre journey). Juvenile tuna remain in the eastern Pacific year round, seasonally migrating between southern Baja and the California-Oregon border. These yearly migrations seem to follow "hot-spot" regions where food (other fish, crustaceans and squid) is most abundant. It's not surprising that they tend to migrate towards the richest food sources. As juvenile tuna mature (reaching sexual maturity at around five years of age), they stock up on food to provide them with the energy they need to make the trans-oceanic migration again to return to their spawning grounds in the northwestern Philippine Sea and the Sea of Japan.
Leatherback Sea Turtle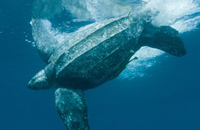 The leatherback undergoes migration throughout its entire life, starting with its first frenzied swim as a hatchling. Atlantic and Caribbean hatchlings make their way into Gulf Stream currents, which are filed with floating sargassum weed, an ample food supply that sustains them throughout this energy-intensive time of their lives. After loading up on fuel, these young turtles depart on an 8,000 kilometre migration to feeding areas in the northern Atlantic, where they remain for two to seven years, feeding and growing in preparation for their trip back to their native breeding grounds. Once the leatherback reaches sexual maturity, it is believed to migrate to a new primary feeding ground where it most likely remains for the rest of its life, except during breeding season. These feeding grounds are rich in jellyfish and salps (soft-bodied creatures) that provide fuel for the long migration south to nest.
Want to tag along with the leatherback sea turtle's migration? Check out CWF's Great Canadian Turtle Race; with the help of satellite technology, we're following the day-to-day journey of leatherback sea turtles tagged off the coast of Nova Scotia!
Monarch Butterfly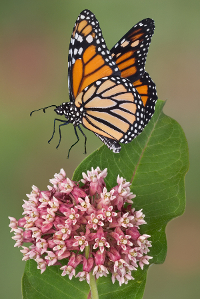 For such a tiny critter, this butterfly makes one mighty migration. Monarch butterflies migrate roughly 7,000 kilometres in the fall, travelling from Canada all the way to their wintering grounds in Mexico. The most interesting feat of this migration is that the monarchs that head to these wintering grounds have never been there before—it takes three generations of monarchs to reach their destination! In March and April, the monarchs begin their trek north, heading to the U.S. Gulf coast, where they lay their eggs on milkweeds. Two or three broods are produced here, and it is these monarchs that continue the migration north to Canada and more breeding grounds. The multiple generations of butterflies born during the northward migration is critical for rebuilding the population at the overwintering sites. The annual southward migration (beginning in early August) finds the monarch butterflies avidly seeking nectar from flowers to fuel their little bodies all the way south and to sustain them through the winter (this stored fat is also crucial for their northward migration in the spring when nectar isn't available).
Barren Ground Caribou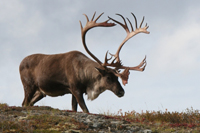 Migrating farther on foot than any other mammal, the caribou travels nearly 5,000 kilometres each year from wintering grounds to calving areas and back again. They spend their winters in the forested areas of the taiga, fattening up on ground and tree lichens (an energy-rich food source). As soon as the snow melts they switch to fresh green vegetation like sedges and newly unfurling leaves, as these are good sources of protein—something the pregnant cows need plenty of for lactation. It is these pregnant cows that lead the spring migration, walking hundreds of kilometres from the taiga to their relatively small calving areas on the tundra. Caribou continue to move about in their summer range to avoid overgrazing; they eat steadily to build up fat reserves for the fall rut and winter migration. As summer progresses, the quality of green vegetation begins to decline, so they once again turn to lichens to get the fuel they need to fatten up and prepare for the winter ahead.