May 11, 2017
By April Overall
Anyone who's been pregnant will tell you that there comes a point in your pregnancy where you just want the baby out. You can't sleep comfortably. Tying your shoelaces has become a dreaded part of your day (thank goodness for flip flops!). Wouldn't it be nice if pregnancy wasn't so awfully long? Well for some animals, it really isn't long at all! Ready to feel a little envy?
Chipmunk
The gestation period for chipmunks is about 30 days! Females have about four to six young (isn't that a handful!), and rear them solo without any help from the males. Usually, chipmunks in Canada will only have one litter per breeding season (between April and May), but some will have a second litter in the fall. What overachievers! These lovely little chipmunks are born stark naked and completely helpless at just three grams. Their hair will start to show at the ripe old age of 10 days, their ears perk up at around 28 days, and they'll see the world for the first time at 31 to 33 days of age.
Red Fox
The red fox only has to wait about 50 to 60 days before giving birth. They can have as few as one and as many as 10 pups per litter. These little pups are born blind and the vixen is pretty protective of them at this vulnerable stage – many females keep males from entering the den until their pups' eyes open (usually around the second week).
Cougar
Wouldn't it be nice if pregnancy was as short as three months? It is for cougars! Females can have as few as one kitten and as many as six. Females are particularly protective of her kittens and don't allow their mates to see them as they may kill the young, thinking they aren't their offspring. The kittens will stay with their mother for 18 to 24 months until they're independent enough to be able to hunt for food on their own.
Beaver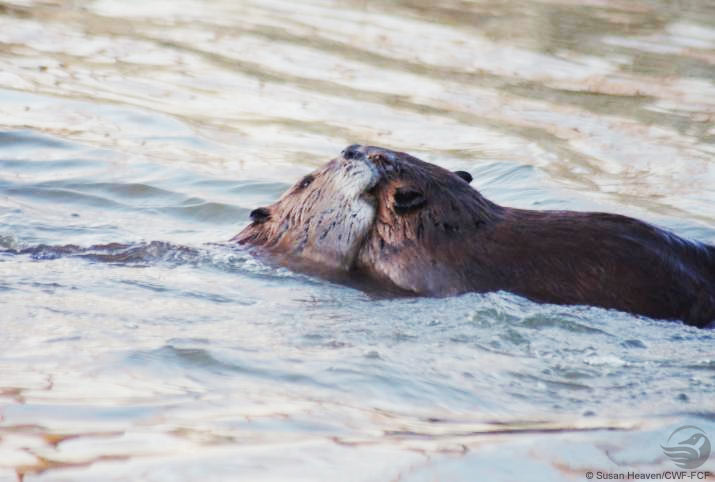 The kits can see perfectly well and they can even swim
At some point during their 100 day pregnancy, female beavers will kick the male from their lodge before the babies are born (he'll temporarily take up house in an old lodge or burrow in the riverbank). In May or June, the female will give birth to a litter of kits (approximately three or four little ones) that weigh in at 450 grams. The kits are born ready for action – their teeth are already cut, they have fur on their bodies, they can see perfectly well and they can even swim! However, females keep their little ones close to home for at least a month before venturing out of the lodge.
Big Horn Sheep
The gestation period for big horn sheep is between 175 and 180 days. Females will leave her flock and seek out a secluded gully or canyon to give birth to her lamb or, in some cases, twins. After two or three days, they will rejoin the flock.
Grizzly Bear
Grizzly bears have to endure the longest pregnancy of the bunch. It can last anywhere between 180 and 270 days. Females give birth to one to four cubs in their winter den (usually during January or February). Since they are so small and vulnerable at birth, they'll stay in their dens until the cubs are bigger, emerging in early May.
Introducing Mother Goose
Are you or anyone you know expecting? It's such an exciting chapter of life. We'd love to be a part of it - through the morning sickness, the ultrasounds, and finally the welcoming of a special, new person to the world.
When you sign up for Mother Goose, we'll send you monthly updates on the best ways to connect with the natural world during your pregnancy, create a home sweet home that's eco-friendly too, and how you can relax in the outdoors to let Mother Nature work her magic.