By Aaron Kylie
Canada's five most endangered habitats — in words and pictures
When you boil it down, all life relies on four basic needs: food, water, shelter and space. In other words: habitat, the foundation of survival. Likewise, the preservation of "critical habitat" — habitat that is necessary for the survival or recovery of at-risk wildlife —is the foundation of all conservation initiatives. Unfortunately, habitat typically tends to be viewed from an individual species perspective when it comes to protecting it. As a result, numerous Canadian habitats are just as endangered as the at-risk wildlife that call them home.

To highlight this issue, Canadian Wildlife consulted a panel of experts from the Canadian Wildlife Federation — including its director of conservation David Browne, marine program manager Sean Brillant and species-at-risk/biodiversity program officer James Pagé — to develop a list of the country's most endangered habitats and, in cases where habitats are not limited to a single region, to choose representative examples.

Like endangered species, the ecosystems featured on the pages that follow face imminent extirpation or extinction. Most are a mere fraction of their historical size. Most are home to an overwhelming majority of Canada's at-risk wildlife. And most face the same triumvirate of threats: urban and agricultural development and fragmentation. The juxtaposition of the grandeur of these environments and the perilous threats each faces is sobering. It serves as ample evidence of the need to preserve them for our future. — Aaron Kylie
Osoyoos, British Columbia
Canada's only desert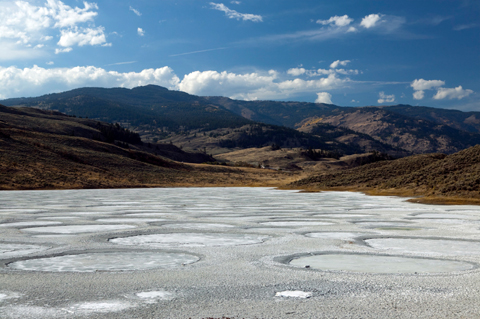 Spotted Lake, B.C. | Photo: Kevin Miller
Life in a desert isn't easy. It's even harder when that habitat is vanishing, just as Canada's only desert ecosystem is doing. Located in the southwest corner of B.C.'s Okanagan Valley, the Osoyoos desert region is characterized by arid, sandy hard-packed ground and talus slopes dotted with drought-resistant grasses, shrubs and cacti. But more than 60 per cent of this habitat has been destroyed. Only nine per cent of what remains is considered undisturbed. The main threat is urban and agricultural development, which has left the more than 100 rare plants and 300 animals found nowhere else in Canada in jeopardy. The most threatened include western rattlesnakes, nighthawks and the Behr's hairstreak butterfly. In 1991, a group of locals formed the Osoyoos Desert Society, an organization dedicated to preserving and resorting this habitat. But its own strategic plan concedes the current rate of local development will eradicate Canada's only desert within 30 years.
Frenchman River, Saskatchewan
Where grassland habitat is making a stand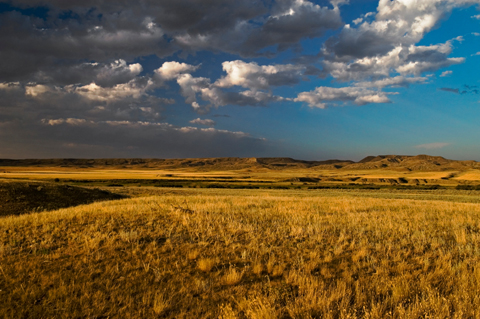 Grasslands National Park, SK | Photo: iStock
Only one-quarter of Canada's original grassland habitat remains today, and Saskatchewan's Frenchman River region is a good portion of what's left. The area's rolling hills consist of deep, fertile soil that host more than 40 varieties of grasses and other non-woody vegetation adapted to the lack of moisture and cold winters common to this habitat. A high percentage of at-risk species live here, including prairie dogs, swift foxes, sage grouse and ferruginous hawks. Habitat fragmentation caused by agricultural development is the main threat to grassland habitat here and elsewhere (there are other pockets of grasslands in southern Saskatchewan, southeastern Alberta and southern Ontario). A number of conservation groups, local ranchers and other stakeholders are cooperating to identify and protect critical areas, as well as restore native plants and animals. Their efforts may be the best chance Canada has of preserving our remaining grasslands.
Carolinian Forest, Ontario
A small home to much of Canada's endangered wildlife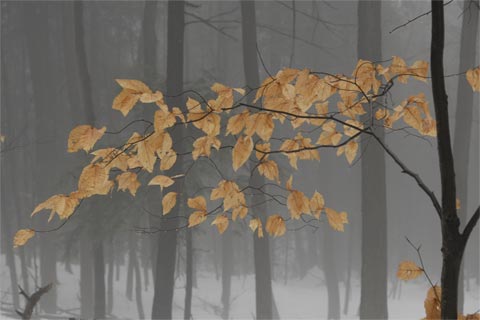 Heidelberg, ON | Photo: Peter Rasberry, CWF Photo Contest winner

The Carolinian is one of Canada's smallest forest regions, much of it standing below the border in the United States. Nevertheless, this band of forest — running south from an imaginary line between Toronto in the east to Grand Bend on shores of Lake Huron in the west — hosts 70 species of deciduous trees and some 2,200 species of grasses, ferns, sedges and other herbaceous plants. It's also home to more than 40 per cent of Canada's nationally at-risk species, including the five-lined skink, the Kentucky coffee tree, the spotted turtle and the Acadian flycatcher. But here's the rub: 90 per cent of the Carolinian has already been lost to the encroachment of urban development and agriculture, and the remaining forest areas are too fragmented and small to be suitable habitat for many native animal populations. Over the past decade, more than 40 government and non-government conservation groups have united to form the Carolinian Canada Coalition to conserve the ecosystem. With the forest in the shadow of Canada's largest urban area, however, they have their work cut out for them.
Cedar Dunes, Prince Edward Island
A leading example of coastal habitat loss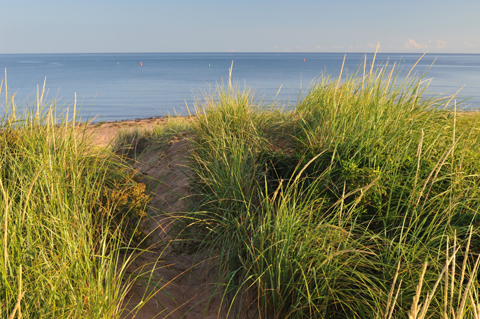 Sand Dune National Park, PEI | Photo: Aimin Tang

Despite the protection of a provincial park, P.E.I's Cedar Dunes are disappearing, as are similar habitats in P.E.I. and elsewhere in Canada (significant dunes exist in Nova Scotia, New Brunswick, Ontario, Saskatchewan and British Columbia). Dunes are simply large sand deposits created by wind and or wave action. Generally found parallel to shorelines, they can be covered by plants such as marram grass (also called European beechgrass), bayberry, lichen and white spruce. The plant roots form a living net that holds the sand in place. Unfortunately, even minimal human foot traffic can destroy the grass, leaving the sand to blow away. The threat of rising sea levels due to climate change is also a risk. That's more bad news for at-risk species such as piping plovers, beach pinweed and the Gulf of St. Lawrence aster, which live in dune habitat. P.E.I. strictly protects sand dunes, and many of Canada's other similar habitats are in protected areas. Still, the P.E.I. government guarantees its dunes will eventually disappear forever.
La Grande Tourbière de Villeroy, Quebec
Southern boglands at a crossroad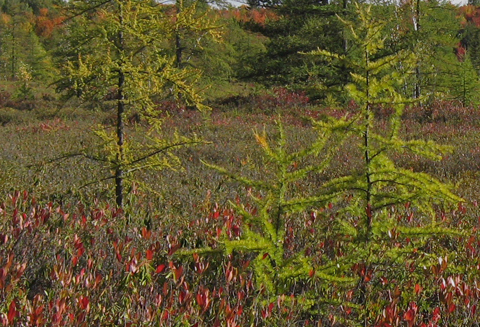 Mer Bleue, a southern Canada bog | Photo: Mary McGee, CWF Photo Club member

La Grande Tourbière de Villeroy, southeast of Trois-Rivières, Que., is one of the last pristine bogs not only in southern Quebec, but in all of southern Canada. While numerous bogs exist in Canada's boreal region, urban development has made them rare in the south. (There are also significant endangered bogs near other urban centres in Quebec as well as in Nova Scotia, New Brunswick, southern Ontario, southern Manitoba and southern B.C.) Like all bogs, Villeroy is characterized by peat, an accumulation of partially decayed vegetation, and sphagnum mosses, heath plants and spruce trees. Many rare plants are found here, including dragon's mouth and the provincially threatened southern twayblade orchids. Local and regional stakeholders are working cooperatively to promote the bog's protection. And for once, the outlook is good: a recent study by Université Laval of more than 600 bogs in southern Quebec ranked La Grande Tourbière de Villeroy second for its potential to be conserved.