By Claire Preston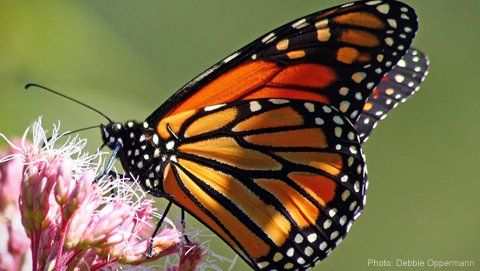 From airplanes to armour, nature has always motivated man to engineer new inventions. And it looks like we still have plenty to learn from nature's creations. Check out the latest gizmos and gadgets inspired by ages of natural evolution and adaptation.
Shark Skin
Sharks are one of the few slow-moving marine animals upon which algae and other microorganisms have not found a way to thrive. For many years researchers believed that the chemical properties of sharks' skin were responsible for this growth inhibition; however, they eventually discovered that it wasn't the chemical composition of the skin that kept parasites at bay, but simply the skin's pattern that made it so hard for these tiny creatures to hang on tight.

Shark skin is made up of a matrix of tiny, hard, tooth-like structures called dermal denticles, which make the surface of the skin too difficult for parasites to cling to. Engineer Tony Brennan mimicked this surface structure in a product called Sharklet©, a film that is covered with microscopic diamond-shaped bumps very similar to those of a shark's skin. Boasting the same anti-microbial properties as shark skin, this film is ideally suited to surfaces in healthcare facilities, public restrooms and other frequently touched, bacteria-prone surfaces.
Sharklet™film was tested in hospitals in California and was found to prevent dangerous microorganisms like E. coli and staphylococcus (which causes staph infections) from establishing colonies large enough to cause harm to humans. Bacteria are able to spread out easily over smooth surfaces but not on Sharklet™film, and because the film doesn't kill bacteria they also can't evolve a resistance to it.
Isn't it amazing what 400 million years of evolution can do for us?
Resource
Butterfly Wings
Not only are butterflies some of nature's most beautiful creatures, but they are also the inspiration for an advanced technology that may help save lives! Butterfly wings have nanostructures that have acute chemical sensing properties. These nanostructures change colour in the presence of different compounds and are strongly influenced by the surrounding gas environment; some researchers are attempting to create sensors that mimic this ability and would enable highly sensitive, near instantaneous detection of chemical threats. In addition to saving lives in the event of a biological or chemical attack, this technology, researchers believe, could also hold a wider range of practical uses such as monitoring power plant emissions, water quality or even food safety.
Bat Echolocation
It is common knowledge that bats use echolocation rather than sight to navigate in the dark when hunting prey. Bats emit ultrasonic pulses and time how long it takes for the echo to return to them, allowing them to judge distances accurately and determine where objects are, how big they are and in which direction they are moving. Using this natural mechanism as inspiration, developers from a UK university created the Ultracane™, an electronic cane that gives mobility assistance to blind and partially sighted people. The Ultracane emits ultrasonic waves (just like bats do) through two transducers on the handle of the cane; these waves bounce off of objects and obstructions that are in the user's path. The user receives feedback through two vibrating buttons located on the handle – the vibrations indicate the proximity of the object and whether it is in front of the user or above head height. This new technology provides people with detailed information about potential dangers in front of them.
Resource
Mantis Shrimp Eyes
The Mantis shrimp has the most complex vision system known to science – where humans can only see in three colours, the Mantis shrimp can see in 12 and can distinguish between different forms of polarized light. This is possible because of special light-sensitive cells in Mantis shrimp eyes that act as quarter-wave plates (which can rotate the plane of a light wave as it travels through the plate) enabling the Mantis shrimp's eye to convert linearly polarized light to circularly polarized light and vice versa. A bit of background information on polarized light: circular polarized light (CPL) is like the light used to create 3D movies, whereas linear polarized light is, well, just light (meaning we can see it normally). Man-made quarter-wave plates convert these two forms of polarized light in CD and DVD players and in circular polarizing filters for cameras; however, they only work well for one colour of light. Of course, you guessed it: the natural mechanism in the eyes of Mantis shrimp can perform this function almost perfectly across the entire visible spectrum (from near ultra-violet to infra-red). What does this mean for technology? According to Dr. Nicholas Roberts from the Ecology of Vision group at the University of Bristol, it could help make better optical devices in the future (as in better entertainment technology). Dr. Roberts believes that researchers can mimic the properties of the cells in the Mantis shrimp's eyes using chemically engineered liquid crystals. He is fascinated by the prospect of this bio-inspiration: "What's particularly exciting is how beautifully simple it is... this natural mechanism, comprised of cell membranes rolled into tubes, completely outperforms synthetic designs [to date]."
Who knows, maybe this will mean the end of wearing those goofy glasses to watch movies in 3D!