May 11, 2016
By Karen Vanderwolf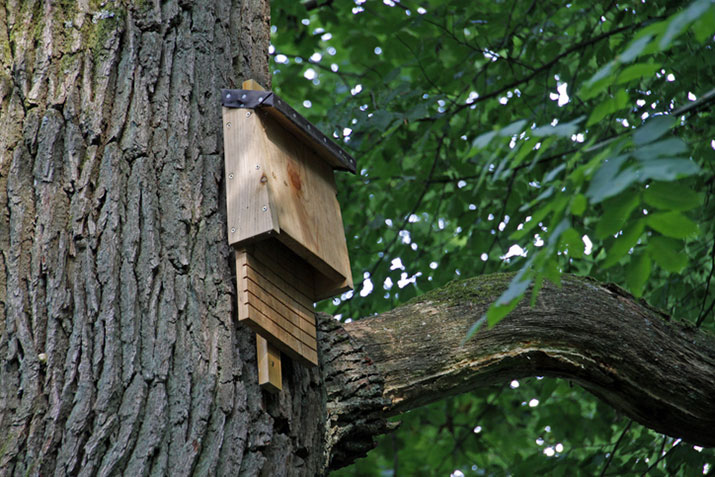 You may think that bats always live in caves, but during the summer months bats live in trees, under bridges, and in buildings. However, as the human population expands, many trees, especially large ones, have been cut down and old buildings with easy access for bats are disappearing. During the summer, bats need a warm place to roost during the day to conserve their energy and raise their pups, and you can help by putting a bat box in your backyard!
The goal of a bat box is to mimic the space between bark and a tree trunk where bats normally roost. Bat like tight spaces! Here are some other tips you can use to make your bat house a cozy place they can call home sweet home.
Make it warm and toasty. In Canada, bats want roosts with high temperatures so they can minimize the amount of energy they spend keeping warm. Boxes that have interior temperatures of 43˚C or more are preferred. Using non-toxic black paint on the outside of the bat box (the inside should not be painted) can help increase the temperature, as can sealing the seams. The top of the bat box will be hotter than the bottom, so if it gets too warm the bats will simply move down the box to their preferred temperature. The bat box should be placed in an open location that receives over seven hours of direct sunlight a day in the summer.
Place the box as high as possible, preferably more than four metres from the ground, and away from cats and other predators.
Put your bat box on the side of a building or on a pole tend to attract bats more often than boxes on trees.
Turn your outdoor lights off. Bat boxes should not be lit by bright lights during the night.
Roughen the interior of your bat box so bats can easily cling to the surface.
Make sure the roof of the bat box is properly protected to prevent rain from getting in and causing rot.
Unexpected Visitors
Insects may use your bat box as shelter during the day or night and you may find cocoons. The presence of a few insects, in general, does not disturb bats. However, it is preferable to limit the number of insects in the box through non-chemical means. Cocoons can be removed manually or with a hose. Occasionally bat boxes will be colonized by wasps which should be left alone until the winter.
Practice Patience
Not all bat boxes will be occupied in the first year. Occupancy depends on many factors ranging from the period in which it was installed to the fact that bats are very selective and might need a little time to familiarize themselves with your bat box. After the first year, the likelihood of it being occupied increases. There are no lures or attractants, such as guano, that can attract bats to a bat box. However, large bat boxes with multiple chambers are more likely to attract bats than small bat boxes. Another reason a bat box may go unused is improper installation. Try moving the bat box to a new location after two years with no success, and remember that hotter is better. In Canada, bats will use bat boxes from May-September. The boxes will be too cold for bats during the winter. If your bat house is successful in attracting bats, researchers may be interested in how many individuals use the box. Try quietly sitting near your bat box during the summer at sunset to count bats as they emerge for an evening of eating insects. You may even notice a decrease in the insect population around your house!