By Sarah Coulber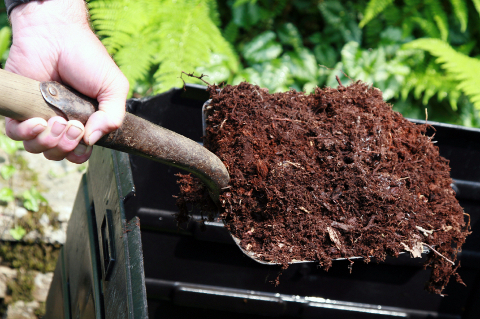 So often we go about our day, forgetting that ultimately we are all interconnected. Take that banana you just ate. Where did the peel go — garbage or composter? Let's hope it was the composter. After all, throwing organic material in the garbage adds to the already huge load we put on our landfills.

Here's another important advantage to composting: new landfills often replace existing wildlife habitat, displacing species and disturbing ecosystems. By contrast, making and using compost in your yard or garden can be a significant benefit to your local ecosystem and waterways farther downstream. How does rotting food and garden waste do that? Read on.

Composting and Wildlife
People have been composting — decomposing organic waste to make a natural fertilizer — for thousands of years. Today, it is considered another form of recycling — the third of the famous "3Rs." So, when you reduce (take only what you need), reuse (use items again or give them to someone who can) and then recycle (transform old waste into brand-new things), consider composting, too. Experts suggest we can divert up to one-third of our garbage by sticking with the tradition.

For gardeners, compost is a dream, a free soil amendment that provides gentle nourishment to promote the growth of stronger and healthier plants. Moreover, compost is generally better than chemical fertilizers, which can deliver nutrients too quickly, negatively affecting both plant and soil organisms.

Strong plants means less need for pest control, as pests typically go for weakened plants (and plants can be weak no matter how green and glossy they look to you). Thus, using compost reduces the need for pesticides, something that has myriad benefits. First of all, it means there's less chance of harming bees, butterflies and other pollinators, which play a vital role in plant reproduction, including the plants we grow for food.

It also reduces the risk that bug-eating birds, including our gorgeous hummingbirds, will ingest dangerously polluted food. There's more. Reducing pesticide use also means that rain water moving over land is less likely to pick up harmful residues, which can wash back into groundwater, rivers, lakes or ponds and harm aquatic wildlife.

In addition to keeping the water that flows back to our waterways clean, using compost can also help reduce the amount of water we take to maintain plants and gardens. Compost amends your soil — loosening clay soil and binding sandy soil — which makes for better air circulation and improved moisture retention. This can mean less need to water plants, leading not only to saving on water bills but also to less pressure on local water systems.

How to Compost
Composting is easy to do with both indoor and outdoor organic wastes. Store household waste, such as fruit and vegetable scraps, in a lidded container, such as an old plastic bucket or specially designed stainless steel container. When the bucket is full, empty the contents into your composter, which you can either buy from a home and garden store or make yourself. (Plans for composters are easy to find in books or on the Internet.)

You can put outdoor materials, such as leaves, directly into your composter, but make sure to separate out any diseased materials first so that you don't introduce unwanted organisms into your soil. You may also want to break down larger items, such as woody twigs and big plants, or put them in a separate pile for tougher materials that compost more slowly. Inside the composter, micro-organisms will work on breaking down your organic matter, reducing the pile into a residue of nutrient-rich material that resembles soil. The decomposition happens most quickly in summer, when the micro-organisms are most active. The rate drops off in the winter, when the micro-organisms slow down or go dormant. When spring arrives, however, you'll be surprised at how quickly your compost pile reduces. Personally, I like to keep two composters. I empty one in the fall so that I have compost on hand as well as extra room to keep adding to the pile during the winter.

To help the composting process,you can add in a shovel of earth once in a while to introduce more micro-organisms to the mix. Some people mix and aerate their pile every two weeks while others only bother a couple of times a year. And there are those who never bother at all. It all depends on how much time you want to spend. You will still end up with usable compost, but some methods produce results more quickly than others.

When your organic waste looks more like soil, you know it's ready. Sometimes big chunks remain. These can be sifted out and put back into the composter for the next batch. To use your "gardener's gold," simply sprinkle it on lawns or dig it into flower beds. You can also soak it in water to make the famous 'compost tea' for both indoor and outdoor plants.

Some people resist starting compost piles, worried that they may cause odours or that composters will be unsightly additions to their yards and gardens. They shouldn't worry. If you manage your pile correctly, you can keep it odour-free. As to looks, keep your composters behind a bush or put up decorative lattices on a couple of sides. For more information on composting do's and don'ts, as well as troubleshooting tips, visit wildaboutgardening.org's Get Gardening – Be Green section.