By Stacey Scott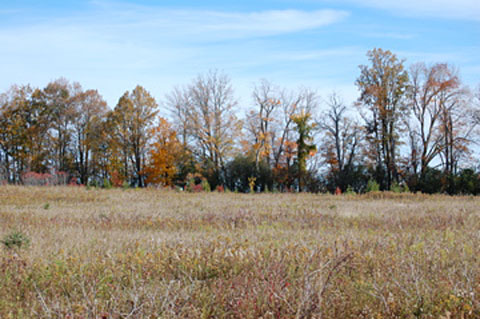 Photo:
It's taken nearly 15 years, thousands of donated dollars, hundreds of elementary students willing to roll up their sleeves and the tireless efforts of one teacher, Mr. Kevin Adams, to create the lush, wildlife-friendly habitat adorning the landscape of Scott Young Public School in Omemee, Ontario. The project, Ecosystem 2000, began in 1994 when Adams took an Environmental Science course that required him to create an interactive lesson plan to get his students interested in the environment. By planting thousands of plants across the 50 acres of land that lie behind the school, students gain valuable ecological knowledge and skills. "It creates a strong sense of stewardship," says Adams. "And it all started with CWF's WILD School educational guides."
Thinking outside of the classroom has really paid off. Students spend the winter months learning, planning and preparing for spring. Once the ground thaws, they alternate weeks, digging holes, removing rocks, planting shrubs and trees and doing ongoing maintenance. Some even volunteer their time during summer vacation to help maintain the sprawling landscape. "The students are able to go outside and really get their hands dirty," says Adams. "It provides them with a strong understanding of an ecosystem and how it all interconnects." They start to study, prepare and plant in Grade 5, and by Grade 8, they have a breadth of knowledge in ecology.
Adams and his students aren't the only ones benefiting from this sprawling oasis. The maturing trees and shrubs provide much-needed habitat for birds and mammals during warm summers and harsh winters. Wildlife relies on the presence of food, space, shelter and water within their chosen habitat, along with links to the surrounding landscape. This past year, CWF donated $500 towards the project, and Adams's class planted a variety of apple, plum and pear trees. Fruit-bearing trees not only provide a valuable food source for white-tailed deer, porcupines, birds and pollinators, but also create valuable ecosystems and corridors for these critters.
Research has shown that birds, such as owls, hawks and woodpeckers, require large forested areas to nest successfully. Similarly, corridors of natural vegetation between woodlots benefit small mammals. Squirrels, rabbits, raccoons, skunks and porcupines are able to travel safely along these corridors, allowing genetic transfer between local populations, which in turn prevents local extinctions. These mammals also help grow the landscape by carrying the seeds of otherwise immobile trees and plants throughout the region.
To learn more about WILD Education and how your school can get involved, visit us at cwf-fcf.org.