February 12, 2016
By Annie Langlois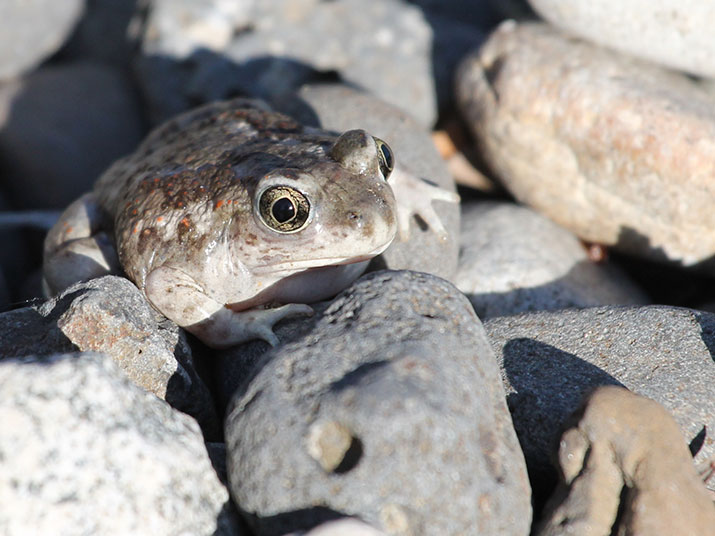 Grasslands are home to hundreds of native plant and animal species in Canada—that's an incredible diversity of life, all sharing a very complex ecosystem. Mammals, insects, birds, reptiles, and plants all co-exist in a balance that astonishes the imagination. These amazing habitats form one of the main ecosystems in the Canadian Prairies, but did you know that they can also be found on the dry Eastern side of British Columbia? Sadly, though, less and less grasslands remain, either in the Prairies or in BC. Because such a small portion of Canada's original grasslands remain today (less than one-fourth), many of its wild inhabitants are under significant threat. The Great Basin Spadefoot Toad and the Western Toad are two of those at-risk species.
Grasslands are not the type of ecosystems you'd think to find many amphibians: they are typically dryer and prone to extreme temperatures. So what are the factors that make the British Columbian grasslands habitat to these two species of toads?
Both the Great Basin Spadefoot Toad and the Western Toad start their lives in ponds within the grasslands. When they reach their adult forms, they move to the dry uplands where they spend the greater part of their lives when they are not breeding. They have adapted to the dry habitat where they forage and winter. But the fact that they need at least two habitats in order to survive makes conserving them a bit complex. If a threat exists in just one of the toads' habitats, or on the migration route in between, it will likely have a negative impact on their populations. For example, cattle trampling the eggs may threaten their breeding sites, while roads fragment their migration routes and urbanization, their wintering and foraging habitat. These threats can add up, wreaking havoc in the toads' populations.
But in order to lend these grassland toads a hand and reduce the effects of these threats, we need to know where, exactly, are their habitats, and when they are there. This is what Dr. John S. Richardson and Dustin Oaten, from the University of British Columbia, have been trying to find out.
With the help of CWF, Great Basin Spadefoot Toads and Western Toads were tagged so that they could be tracked. And the results were very surprising! By following the Great Basin Spadefoot Toad around, the researchers found out that they migrate for much greater distances than expected between the ponds where they breed and the areas where they spend the rest of their time. They also found out that, contrary to the data gathered on different projects, they used preexisting burrows in areas with dense vegetation cover close to their breeding pond to spend the hottest and driest months of summer in torpor. When the temperatures cool down, in September, they become active again, and while some stay close by in burrows throughout the winter, others migrate to their wintering areas. Western Toads, which were thought to be more mobile, actually stayed much closer to the breeding pond throughout the rest of the year than the Great Basin Spadefoot Toad. These results are very different from what other researchers had found out with other populations in other areas!
No doubt that these results will go a long way in figuring out what these special toads need and what areas to protect in British Columbia so that their populations can recover!