December 13, 2009
By April Overall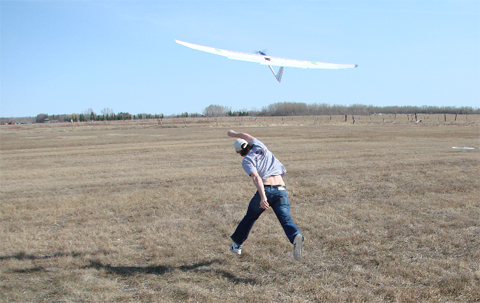 The Canadian Wildlife Foundation recently donated $5,000 to David M. Bird, Professor of Wildlife Biology and Director of the Avian Science and Conservation Centre, to research the potential benefits of using Unmanned Aerial Vehicles (UAVs) in wildlife conservation.
UAV 101
The wheels started turning when Bird was approached by a retired National Research Council scientist to help build an Unmanned Aerial Vehicle (UAV) that replicated both the looks and behaviour of a hawk in order to frighten birds from vineyards. Why not use these machines to gather information about wildlife? "UAVs represent an extremely innovative new technology on the market promising to revolutionize modern wildlife research and management," says Bird. Bird and his team have set to work studying the capabilities of these machines to carry out wildlife colony and herd counts, observe wildlife in out-of-reach places, track animals that were previously fitted with radio transmitters and create detailed maps of wildlife habitats. "Other potential spin-off research includes detection of bird strikes on wind turbines and powerlines and recording of predatory behaviour of diving ducks on salmon smolt using an underwater UAV," says Bird. How well the UAV is able to complete various tasks (whether they succeed with flying colours or fail miserably) will help researchers determine the design limitations of the technology as well as offer improvements.
Man vs. Machine
Wildlife conservationists across the globe need tools to track the health and wellbeing of wildlife. In the past, manned aerial surveys have proven largely expensive, unreliable, culpable of disturbing wildlife and capable of endangering subjects during aircraft malfunction. Unmanned aerial vehicles, on the other hand, are more capable of collecting data with high degrees of accuracy, and reduce the risk of disturbing and harming wildlife and its habitat.
Bird and his team use MicroPilot's (Manitoba) CropCam, which is a 2.7-kilogram electric sailplane with a 2.4-metre wingspan. Operated by ground-control with the help of a laptop, the researchers are able to bring the plane's speed up to 60 kilometres an hour and can soar through the skies snapping pictures with a digital camera for up to 45 minutes.
Track Record
Bird and his team have spent over two years testing the abilities of UAVs. Here's just a little peek at their itinerary:
Spring 2007
Surveyed bald eagle nests in Surrey, B.C., to determine if the technology could ascertain the number of eggs in the nests.
Fall 2007
Tested the UAV's ability to locate active beaver food caches in the Huntington Wildlife Forest, N.Y.
Spring 2008
Evaluated the UAV's ability to count migratory colonies of Canada Geese and Snow Geese in the Montreal area.
Summer 2008
Produced a detailed digitized vegetation map of a protected marsh habitat in Baie-du-febvre, Que., one of the only breeding grounds of the threatened Least Bittern.