By Jennifer Smart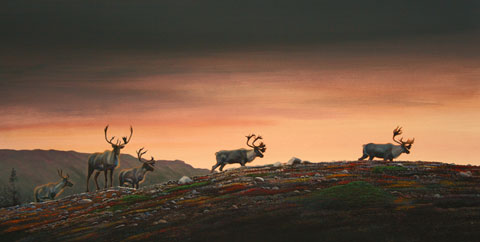 On October 2, 2008, eight of Canada and the United States' top wildlife artists and photographers began a two week voyage to witness and document the George River caribou herd migration at Lake Kamestastin in Labrador. The expedition was organized as part of the Wilderness River Expedition Art Foundation's (WREAF) project: Visions of the Boreal Forest: Art, Science and Adventure in the Northern Wilderness and marked the group's seventh expedition to the boreal forest since 2005. The trip to Lake Kamestastin, their most recent journey, was made possible, in part, through a $12,000 sponsorship by the Canadian Wildlife Federation.
Incorporated on February 11, 2005, WREAF is a global artist's collective that broadens public understanding of the importance of conservation by organizing wilderness art expeditions and group shows of expedition artists. By organizing exhibitions and providing artists with the opportunity to inspire their work through real wilderness experiences, WREAF is able to offer a unique perspective to the public dialogue on conservation. The group's current focus centralizes around the boreal forest.
The Kamestastin expedition included artists: Linda Besse of Washington, Cole Johnson of New York, Jay Johnson of Massachusetts, Gary McGuffin of Ontario, Steve Oliver of Pennsylvania, and Rob Mullen, John Pitcher and Sue Westin of Vermont. Accompanying the artistic adventurers was Tony Jenkinson, co-founder of the Tshikapisk Foundation, and his ten-year-old granddaughter, Jordana Benuen ― the group's unofficial Innu guide.
Expedition participant, WREAF founder and Executive Director, Rob Mullen, recounts this amazing experience:
In January of this year, with an introduction from Dr. Stephen Loring, I received an invitation from the Tshikapisk Foundation to send crews to their nascent eco-tourism facility at Lake Kamestastin for the spring and autumn Woodland Caribou migrations. On October 18 we returned to Montreal from our first expedition to this critical region for the George River caribou herd.

Photo by Gary McGuffin

Lake Kamestastin sits in the bottom of a 38 million-year-old meteorite crater. That primordial cataclysm instantly exterminated the luxuriant sub-tropical Oligocene flora and fauna for many miles around yet ironically today is an island of diversity in the "Barrens". The ancient crater provides enough shelter from the near incessant wind to allow a large island of Boreal Forest to thrive along the south shore of the lake; the resulting food and shelter creating a wildlife magnet. For untold thousands of years the caribou herds of the Labrador/Quebec peninsula have funnelled through on their way between the forest to the south and the lower predator density tundra for both the rut in autumn and calving in spring; and for thousands of years the Innu have awaited them at Lake Kamestastin.

Woodland Caribou are dependent on old-growth boreal forest and as such are a good indicator species: if they are doing well then the underlying ecosystem is doing well. Caribou have great artistic appeal and can capture the imagination of viewers across a broad spectrum in a way porcupines cannot. In addition to their ecological significance and artistic qualities, caribou have been a central aspect of Innu culture for thousands of years and provide a cultural, anthropological and even archaeological insight into the boreal forest and the people who have called it home since the glaciers retreated.

On October 1, after a three day drive from Montreal, we arrived in Goose Bay and met with Dr. Loring and Tony Jenkinson. On the morning of October 2, our crew of 10 (including Tony) boarded an Innu Mikun Twin Otter for the 215 mile flight to Lake Kamestastin.

Photo by Gary McGuffin

The expedition planned to spend twelve days at Lake Kamestastin in order to maximize our chances of encountering significant numbers of caribou. The necessity of an extended period of time was underscored by the near total lack of caribou for the first six days. That posed no immediate problem. We saw enormous bears, distant wolves, ptarmigan, crossbills, golden eagles, gyr-falcons, golden-eye and harlequin ducks, Canada geese and a host of other birds; all of this in an awe-inspiring landscape; a mosaic of rock and shrub tundra, bogs, ponds and forests with rivers wending their way toward distant snow-capped peaks. This land has a beauty that can absorb you and which feels wondrously timeless ― liberating and peaceful ― yet the wind carries an undercurrent of ominous threat too — this place is truly wild. Some of us travelled alone at times but only with the greatest care and respect.

As I sat on a ridge overlooking the lake one afternoon, it struck me how timeless an activity watching for caribou here was and I felt a connection with those who had done this before me; wildlife artist or ancient Innu hunter, despite the obvious superficial differences the basics were unchanged.

"Labrador Bull" 10"x 13" graphite original by Cole Johnson

Then the caribou arrived.

On the morning of October 8, continuing to gain a feel for the land and travelling in it, I headed north east to investigate a possible portage route to the Kogaluk that Stephen Loring had suggested. Along the way I intended to scout for caribou sign along the Kamestastin River to determine if they were crossing east of the lake. I'd been joined at the last minute by John Pitcher, (another of our artists), and we set out into our first clear day though it was cold with a strong north wind. A few miles out, while taking a short break to glass the countryside and discern our route, I spotted part of what turned out to be a large herd of caribou about half a mile east of us. We headed to intercept them. The first group eluded a close enough encounter for good photography but to our excited delight many more were following them. Over the course of the day we saw over 500 caribou, many at very close range with fine bulls and all in peak condition. Upon our return to camp it turned out that everyone had seen caribou through the day; they had indeed arrived.

While the herd was not yet coming through in the massive numbers quite often encountered at Kamestastin in early October, the several thousand that did pass through provided an awe inspiring spectacle for the crew. Two ecstatic artists returning from the field one evening described one encounter that day as the "…best wildlife experience…" of their lives; this from artists who have travelled the world. The following day was equally impressive and then the climax came early two days later as a thousand caribou crossed the lake near camp. Caribou were everywhere for the next several days and no one missed out on inspirational encounters set against stunning panoramas in beautiful light.
To date, the group has held exhibitions in Parker, Colorado and Los Olivos, California. In 2009, WREAF is planning additional on-site exhibitions as well as a virtual exhibition that will allow online visitors from all over the world to experience the beauty and wonder of the boreal forest.
For more information on WREAF, past expeditions and to view upcoming exhibitions, visit their website.
Opening painting "On the Move" 13" x 26" acrylic original by Steve Oliver