November 14, 2009
By April Overall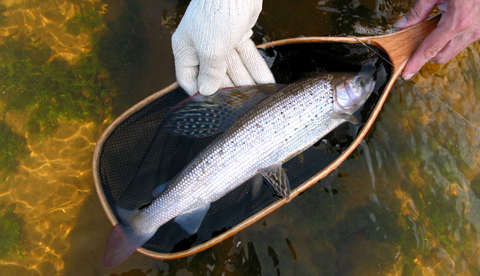 Photo: Bill Patterson
The Arctic grayling (Thymallus arcticus), a member of the trout family, lives in the cool waters of the Athabasca, Peace and Hay River drainages in Alberta. Sensitive to its surroundings, the grayling is defenseless to over fishing, habitat fragmentation from road culverts and a spike in temperature caused by climate change. According to the Fish and Wildlife Division of the Alberta Conservation Association, populations have dropped by 50 to 90 per cent in their southern range. Moreover, the General Status of Alberta Wild Species 2000 listed the Arctic grayling as "Sensitive"; however, the Committee on the Status of Endangered Wildlife in Canada has not considered this species to date.
Here, There and Everywhere
As the seasons change, adult Arctic grayling swim through mainstream rivers and drainages. Radio-tagged grayling in the Little Smoky River, for example, head downstream in September and October to deep pools that are ideal for overwintering, and head upstream to spawn during the ice break-up in early May. Swimming their way between habitats is key to these graylings' survival: they need to stay on the move to feed, pick the perfect spot for optimal thermal habitat, keep on the lookout for an ideal place to spawn and choose a nook to stay for the winter.
Crossing Paths
As petroleum developments expand across northern Alberta, roads and associated stream crossings are developed to support them. In the Notikewin and Swan Hills waters alone, more than 70 per cent of their crossings were culverts. The needs of wildlife are often brushed aside, and their habitats become fragmented. Stream fragmentation (from building roads and culvert barriers) has become a crucial factor for the Arctic grayling and its habitat. With enough wear and tear, culverts can partially or completely barricade portions of the grayling's habitat; moreover, once the barometer drops, ice can build on these culverts and hinder the grayling from moving to its spawning ground in early spring.
While the federal government's Fisheries Act states that stream crossings have to offer fish species safe passage through all their life stages, there are many instances in which these crossings fall through the cracks due to poor monitoring and law enforcement. For example, one 1973 study of road crossings in the Edson area found that 40 per cent of its stream crossings were considered obstructions to the natural movement of fish, including the Arctic grayling.
How Stevens' Research Fits In
Stevens' team is studying the impact of stream crossings on the Arctic grayling population and its distribution by comparing watersheds that have minimal road densities to watersheds with high road densities. He also plans to compare how Arctic grayling populations have distributed above and below stream crossings (like bridges and culverts) in the Athabasca River basin.