By Nathalie Viau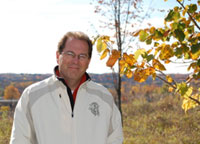 Photo: Nathalie Viau
In today's world, getting inspired is not always easy. All the more reason to share this refreshing and inspiring experience that occurred a few weeks ago at the Scott Young Public School in Omemee, Ontario. A morning tour of the grounds with lead teacher Kevin Adams (pictured above) left everyone feeling inspired and full of hope that people can make a difference.
Scott Young Public School is a Canadian Wildlife Federation WILD school and has earned this designation for their participation in CWF education initiatives. As with all WILD schools, CWF has financially supported some of the school's efforts to teach students about biodiversity through small projects located on and around their school grounds.
For Scott Young Public School, it all started 12 years ago with one teacher — Mr. Adams. Adams and a group of students began a small project to plant trees and native plants at one end of the school's property. As we walked by this area, Kevin pointed out to me how some of these trees over seven metres high, were seedlings barely 1.5 metres tall when the students planted them 12 years ago. As he spoke of past and present efforts, the pride in his voice was evident. But his pride extended beyond his admiration for these accomplishments; it had to do with the students and inspiring them to become better citizens of this planet — our planet.
Through years of effort, this project grew. This growth was demonstrated not only by the growth of the trees, but also through the participation of students, other teachers and the community. As we walked, Kevin shared with me that these projects are not all done during school time. Actually, the community's involvement in the project is one of the main reasons this has worked out so well. Local youth groups such as the Scouts, students and their families and other local community members have all donated their time to plant and maintain these grounds. As Kevin commented, this involvement has created a sense of pride and respect for this community, thus vandalism has never been an issue.
Kudos to Mr. Adams for using the local environment as a learning tool for students and the community!
It doesn't take much to make a difference. There are plenty of people that need assistance with projects, you just have to go out in your community and find them. Get outside to enjoy and appreciate the beauty of our land and get inspired to conserve it for future generations. You won't believe how much small changes will improve your quality of life and make you appreciate your time outdoors.
WILD education programs are designed to increase awareness and appreciation in young people of the importance of wildlife and the environment upon which all life depends. For more information, please visit our website at WildEducation.org