June 5, 2011
By April Overall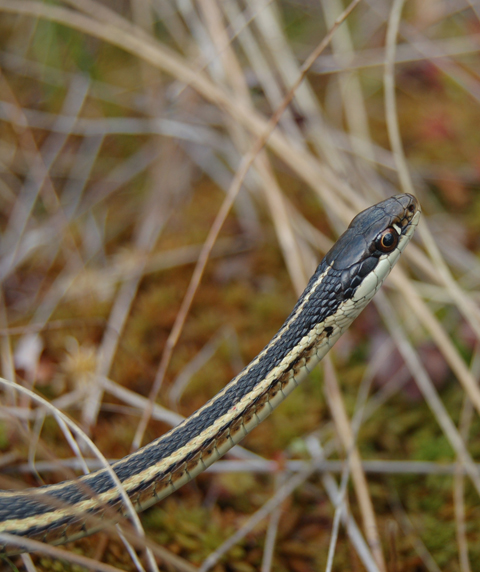 Photo: Jeffie McNeil
Experts believe that the eastern ribbonsnake (Thamnophis sauritus) slithered all around our nation approximately 5,000 years ago, when the temperatures were balmier in Canada. But when the climate cooled, its numbers were divided into two distinct populations: Great Lakes and Atlantic. The Great Lakes population resides in Ontario and has been listed as of special concern by the Committee on the Status of Endangered Wildlife in Canada (COSEWIC) while the Atlantic population, made up of a mere 1,000 to 3,000 ribbonsnakes is restricted to southwest Nova Scotia and listed as threatened. Loss of habitat, collecting for the pet trade, road mortality and predation are the greatest threats to these slithery critters.
Jeffie McNeil, a ribbonsnake data and field coordinator at the Mersey Tobeatic Research Institute, has spent the last eight years conducting research for the Atlantic population of the eastern ribbonsnake and thanks to $17,000 of funding from the Canadian Wildlife Federation's Endangered Species Fund, is working on her next venture – discovering the snake's range and overwintering habitats. "The first step to protecting a species at risk is to find where they are located and this is particularly challenging with ribbonsnakes because of their small size and low detectability," says McNeil.
A Spot of Water
To date, the eastern ribbonsnake has only been spotted in three watersheds in Nova Scotia: Mersey River, Medway River and Pleasant River. However, McNeil suspects the LaHave River might be home to the ribbonsnake as well since the watershed is just 30 km away from their core range. From May to August, McNeil and her team will conduct visual surveys in 25 wetlands in the LeHave river watershed in the hopes of tracking down eastern ribbonsnakes. If they happen upon any, the snakes will be marked with a tag or ventral scale clipping, measured, weighed and released at their capture site. Researchers will also take note of the location they found the snake, its behaviour and potential threats to the critter.
Follow Your Nose
Come October, the eastern ribbonsnake scouts out animal burrows – from ant mounds to vole tunnels – and crevices between rocks for a suitable spot to overwinter. They'll hibernate for up to seven months and emerge in April. However, since they opt to hibernate in other animals hibernacula, it's tough to find a good spot, especially as habitats are lost to human activity. What still remains a mystery to researchers is what kind of habitats they prefer for hibernation: wetland edges or terrestrial habitats. Considering that snakes will travel great distances to locate the perfect hibernation locale, the characteristics that make up the overwintering site is pretty crucial to conserving an at-risk species. McNeil will conduct surveys at 10 or more terrestrial sites around an area the eastern ribbonsnake has been found during the winter months. From March to April and September to November, researchers will scout out snakes in the area using trained dogs to "smell them out."