September 12, 2009
By April Overall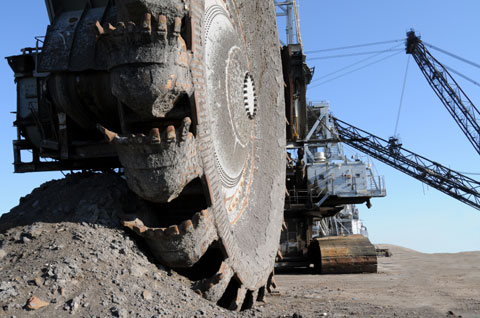 Between the Alberta Foothills and the Eastern Slopes of the Rocky Mountains, logging, open-pit mining and development of the oil and gas industries are booming. They are not, however, popular with the grizzly bears that live there. According to COSEWIC, northwest grizzly bears (Ursus arctos horribilis Ord) residing in the Yukon, Northwest Territories, Nunavut, British Columbia and Alberta are listed as a species of special concern due to human developments – industrial, residential and recreational. These developments encroach on grizzly habitat and range. And while development will likely continue, Boyce and Cristescu are aiming to relieve the pressure on dwindling grizzly populations and keep human interaction to a minimum by studying how grizzlies are dealing with development at the active Cheviot and the reclaimed Luscar and Gregg River open-pit coal mines.
Going Solo
Grizzly bears are solitary animals that thrive in undisturbed areas. Moreover, they like to roam. The average home range for a grizzly female is 200 to 600 km², while a grizzly male needs more than double a female's range – 900 to 1,800 km². In fact, researchers have found that male grizzlies can travel up to 250 km² in the course of a year. With their North American range cut by more than half, grizzlies are more likely to run into conflict with humans. Between 1999 and 2004, half of the grizzlies whose ranges cover the Gregg River and Luscar mine areas died of human-related causes.
Grumbly Tummies
After the mines were reclaimed, grass was set down in the surrounding area, thereby attracting many large herbivores like elk and bighorn sheep. According to Boyce and Cristescu's field observations, this high-traffic herbivore area has led to a spike in grizzly visits. The large herbivores have also attracted hunters from across the globe, upping the chances of human-bear confrontation. With research conducted on the herbivore kill sites, the University of Alberta researchers will be able to recommend how best to handle these large mammals and limit the risk of human-bear interaction.
On the Move
Using miniature digital cameras attached to GPS radio collars, Boyce and Cristescu will track grizzly bear movement to help discover whether grizzlies use reclaimed and active mines, what the bears are eating, if bears use the mines for shelter, how much time they spend at the mine sites, whether they cross the Cheviot active mine hauling road or if they avoid the mines entirely. This research will help determine how the mines and the roads used for coal hauling should be expanded.
Researchers will also track grizzly visits to recreational trails surrounding the mine sites to discover the frequency and timing of their visits. In addition, they'll track how humans use the trails in order to identify the seasons or daily hours that human-bear conflicts are most likely to occur.