July 11, 2011
By April Overall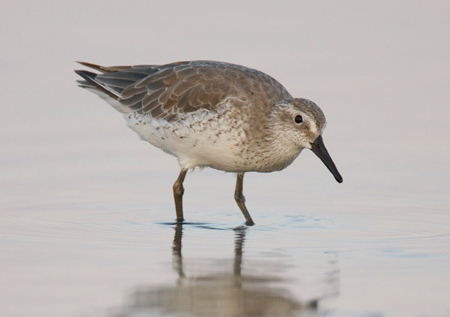 In the October 2010 issue of Wildlife Update, we wrote about the plight of the rufa red knot. At the time, these birds had seen a dramatic decline in its numbers. They needed our help. CWF's Endangered Species Fund allotted $27,000 to Dr. Allan Baker of the Department of Natural History at the Royal Ontario Museum for red knot research at their refuelling site in Mingan Archipelago National Park Reserve. What did they find? Read on to find out!
Count Down
Back in 2006, Parks Canada and the Canadian Wildlife Service started counting red knots in the Mingan Archipelago area, and by 2007, Dr. Baker and his team had joined the team. From July 13 to October 25, 2010, the crew counted the number of red knots spotted in the area. The birds arrived in waves. The first wave arrived on Île Niapiskau on July 31 and 2,450 red knots were counted, while the second wave arrived on August 15 with 1,350 more red knots. As such, researchers were able to deduce that at the very least 3,000 red knots used the Mingan Archipelago National Park Reserve to refuel in 2010.

But of course, the Mingan Archipelago National Park Reserve is just a spot the red knots stop to catch their breath before they're off again to their wintering grounds. One of these birds' wintering sites is in Tierra del Fuego, South America, and, in January 2011, when the birds began to reach their destination, researchers found that there had been a dramatic decline once again in their population size. In January of 2010, 15,000 red knots were counted, already a sharp decline from the robust 52,000 population they'd acquired just a decade earlier. But 2011 found an even sharper decline; only 10,000 red knots arrived at their Tierra del Fuego in South America winter ground.
So what is causing such low numbers? That's just what researchers are trying to understand. Dr. Baker and his team are trying to uncover how successful breeding pairs are. But it seems timing is everything for red knots – when they arrive to the park speaks volumes to how successful they were at breeding. Red knots are interesting birds when it comes to migration. They don't all pick up and go at once. Instead, they migrate in waves. Adults usually depart for migration at the end of July and in late August. And then juveniles arrive at the Mingan Archipelago National Park Reserve at the beginning of August and stay until late September.
Adults – The First Wave
Adults arrive at the park in two waves. The first wave contained both male and female birds, however there were more females than males, indicating these birds were made up of breeding pairs that had failed at breeding and also females that left the Arctic early after their clutches had hatched.
Adults – The Second Wave
The second wave of adults arrived in early August and Dr. Baker and his researchers used cannon nets to catch 112 adults that had arrived at Mingan Archipelago National Park Reserve and found most of them to be males, which suggests these birds had probably bred successfully, explaining their tardiness to arriving at the park. However, the size of this wave was smaller than the good breeding season they saw in 2008.
The Youngins
Juveniles also arrived in waves. The first juveniles spotted arrived on August 9, with just two in their numbers. Slow but sure, these numbers steadily increased and by September 7, 300 had arrived at Mingan Archipelago National Park Reserve. The last juveniles arrived on September 27. The team captured 43 juveniles and banded them, and found they were quite healthy and ready to embark on their next leg of the journey.

Monitoring and tracking the red knot is crucial to discovering the causes of their decline. But with a 30,000 km trek to cover, it's quite a challenge. However, it's critical that research such as Dr. Baker's be conducted in various parts of the red knot's flyway.