July 1, 2013
By Stephanie Poff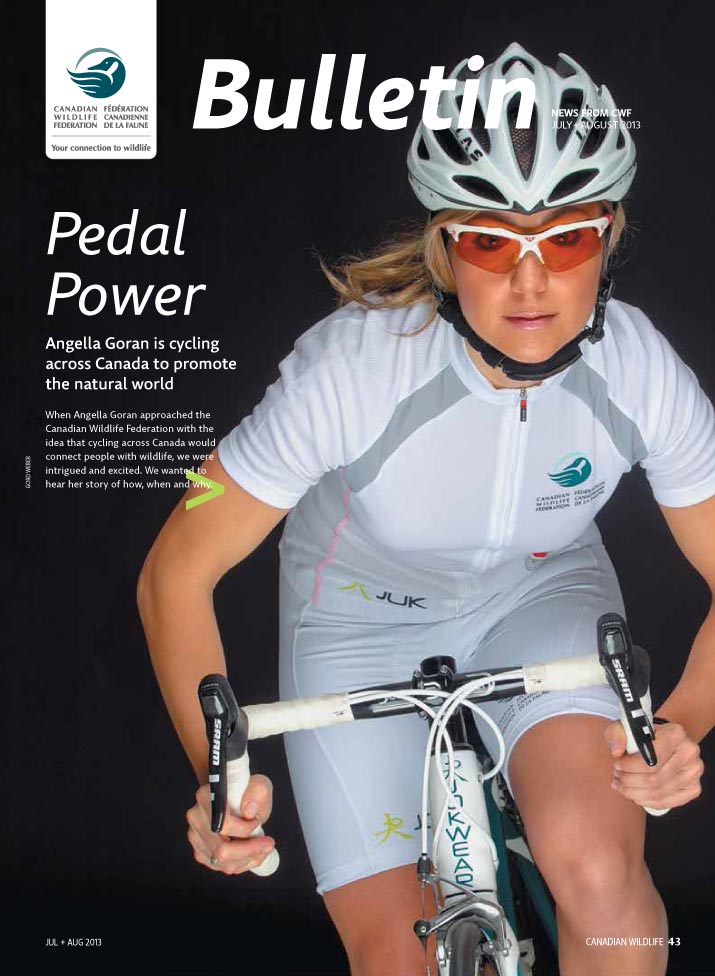 When Angella Goran approached the Canadian Wildlife Federation with the idea that cycling across Canada would connect people with wildlife, we were intrigued and excited. We wanted to hear her story of how, when and why.
The result? A new, nationwide collaboration between Goran and CWF called "Bike for Wildlife" that will see Goran pedalling across the country to raise awareness about conservation and the importance of being active outdoors.
Goran, an athlete and entrepreneur in Ottawa, has been athletic all her life. She's made healthy living her mission personally and professionally as the founder and managing partner at Cyclepathic Indoor Cycling Studios in Ottawa and owner of SokWear Inc. and JokWear Inc. athletic apparel. And like CWF, she has seen the ever-present need for people — especially youth — to rediscover the outdoors. But why bike for wildlife, and why now?
"Being outside strikes a chord in all of us," Goran says. "Whether your passion is cycling, walking, swimming or bird-watching, there is a natural high that comes from experiencing our natural world."
Goran's words echo CWF's mission to ensure an appreciation of the natural world and a lasting legacy of healthy wildlife and habitat. But biking more than 6,000 kilometres during her upcoming journey — with at least 67 stops along the way — is a mighty task. It's certainly not for everyone, and that's what sets it apart. The goal here isn't to be like everyone else, it's to achieve and conquer something bigger.
Creating a national adventure — which begins on a bike but with a message propelled further and stronger by interacting with communities — challenges people of all ages to get outside. And that's what it's all about. "As I ride town by town, being outside, being active and sharing the importance of conservation at each stop is what will make this great," Goran says. "Making a difference can happen at any age, by any means possible. Let's challenge ourselves today to be better — to have a new awareness of Canada, its heritage and challenging our own potential."
It's easy to lose sight of what being outdoors and active can mean for us physically, spiritually and even environmentally. In recent years, the shift towards pedal-power commuting speaks volumes for a society ready to make changes for the better. The way the world communicates is ever changing too; this bike ride represents the new ways and approaches to reaching people.
CWF's Bike for Wildlife project is the first time we've hit the pavement (so to speak) on a cross-Canada mission. Not only are we eager to meet folks face to face, but this ride will highlight national research and funding projects we have underway. Schools will have the opportunity to meet Goran. Communities not along her direct path can connect with this journey online. All the tools to bring CWF to you, your classrooms and homes will be a click away at BikeForWildlife.ca, where you can find a complete map of Goran's route and the stops she'll be making along the way.
The adventure kicks off Aug. 14 in Victoria and will conclude in Halifax at the end of October. Don't miss out when Goran rolls through your town.