July 15, 2014
By April Overall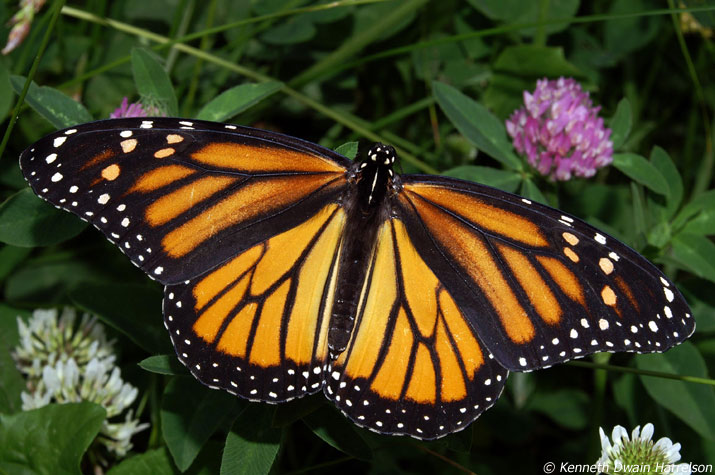 "Monarch In May" by Kenneth Dwain Harrelson - Taken by Kenneth Dwain Harrelson.
It's no secret that the Canadian Wildlife Federation has been worried about the monarch butterfly for quite some time. After their numbers dropped to their all time lowest in 2012, our hearts dropped along with them. We needed to do more. We absolutely needed to protect these majestic butterflies. So we paired up with the Department of Integrative Biology at University of Guelph to delve into the reasoning behind this dramatic population decrease.
The answer lay with their migration and the many generations it takes to make the trip to and from their overwintering grounds. Until recently, scientists could only estimate the monarch butterfly's migratory patterns, and many believed individual monarchs made the migratory journey. That just wasn't good enough for us. We needed to know, once and for all, where these winged wonders were going and where they had come from.
The University of Guelph team clocked 35,000 kilometres driving across 17 states and two provinces to accomplish this. They netted more than 800 monarchs and quickly began analyzing the chemical elements in their wings. You see, monarchs primarily eat milkweed in their larvae state and since the plant's chemical signature varies from one place to another, they were able to find out each butterfly's birthplace by analyzing their wings. Remarkable, right?
What they found was that monarchs make their long migration northward through successive generations, not all in one go. So the parents lay eggs that hatch along the way (up to five generations to make it to Canada) then their young continue on. Moreover, they found that
many of the successive generations of monarchs were born in Texas and Oklahoma, while others were in the U.S. Midwest and finally a larger area of the northeast coast and the Midwest. That tells us that it is critical for the monarch's future to foster the butterfly's habitat in these areas first by conserving their food (either planting more milkweed, or at the very least, not destroying the milkweed grown there), and secondly by keeping a close eye on the negative impact genetically modified corn and soy is having on the species.
So what can you do? You can start by pledging to make your garden a safe place for monarchs! When you pledge to help monarchs, you'll get the dos and don'ts of gardening for monarchs including what blooms to plant, what common gardening tool you should ditch, and more. Take the pledge today!