November 15, 2011
By Heather Robison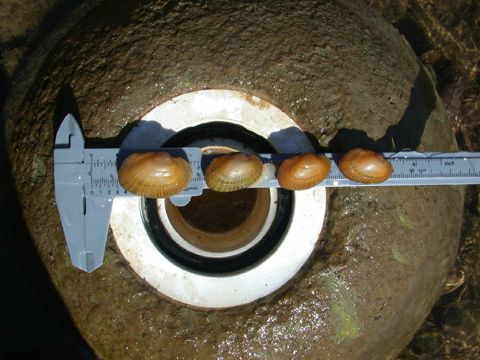 Unionids, some of our largest freshwater invertebrates, are now among the most endangered organisms in the world. According to COSEWIC, of the 55 species in Canada, 13 are Endangered, two are Threatened and three are of Special Concern. The Canadian Wildlife Federation has been supporting researchers at the University of Guelph, led by Dr. Josef Daniel Ackerman, Professor of Physical Ecology and Aquatic Science. The goal is to develop recovery strategies for these species at risk, and to determine the host fish they depend on for development. This research includes rearing juvenile mussels and determining critical habitat features.
A Trip to the River
When it comes to freshwater mussels, we simply can't put our heads in the sand. Commercial exploitation and land-use changes, such as habitat alteration and degradation (including water quality), are among the reasons freshwater mussels are at risk. Another factor is that the species require a host fish for their reproduction and dispersal (one species actually depends on an amphibian host). This dependency may limit reproductive success because the conservation status of the host becomes a critical factor. The six recovery programs at the University of Guelph engage citizens, landowners and stakeholders in conservation actions in Southern Ontario, particularly the Ausable, Grand, Maitland, Sydenham, and Thames rivers.
No Shell Game
In order to recover mussels, research is needed to determine several factors:
• the most productive fish hosts
• the gravid – or reproductive – periods of the mussels
• the optimal conditions for rearing juvenile mussels in the lab and the field
• the environmental factors needed to help identify critical habitats and needs in nature
Putting a Little Mussel into It
The initial studies funded by CWF involved three species: rainbow, mapleleaf and round pigtoe mussels. The studies also examined whether an invasive species, the round goby, may serve as a host fish. All experiments were conducted at the Hagen Aqualab and in the field, with comparative research involving snuffbox, northern riffleshell, wavyrayed lampmussel and mucket mussels. Juvenile aquatic habitats units for rearing juvenile mussel are comprised of six bucket units with a sump pump and water from the Grand River. Juveniles were raised from initial metamorphosis on an algal diet. Mussels that were at least one month of age were placed into three different treatments of algal mixes. Growth rates were calculated and compared to an infestation experiment in a field enclosure involving wavyrayed lampmussel and smallmouth bass. The fish were transferred to a field facility on the Grand River, and survival data was compared to laboratory-reared juveniles. Gravid periods were monitored and physical and chemical parameters were measured.
Flexing Our Mussels
Research showed that glochidia – or larvae – of mussel species at risk are capable of infesting invasive round gobies, however, the metamorphosis rates are generally lower than on the mottled sculpin, a bottom dweller and marginal host. Field-reared wavyrayed lampmussels, which were transformed in the lab, grew quite well and will become reproductive as adults. This indicates that policies may need to be developed on when and how to release artificially transformed mussel species at risk. Efforts have also been rewarding as researchers have discovered new localities for three mussel species at risk in the Ausable River watershed. This information, combined with the ongoing assessment of the environmental conditions at mussel sites, will provide valuable information to help identify the critical habitats and needs of mussel species at risk. Ultimately these results will help to remove species from Threatened, Endangered or Extirpated status.