September 15, 2016
By Heather Robison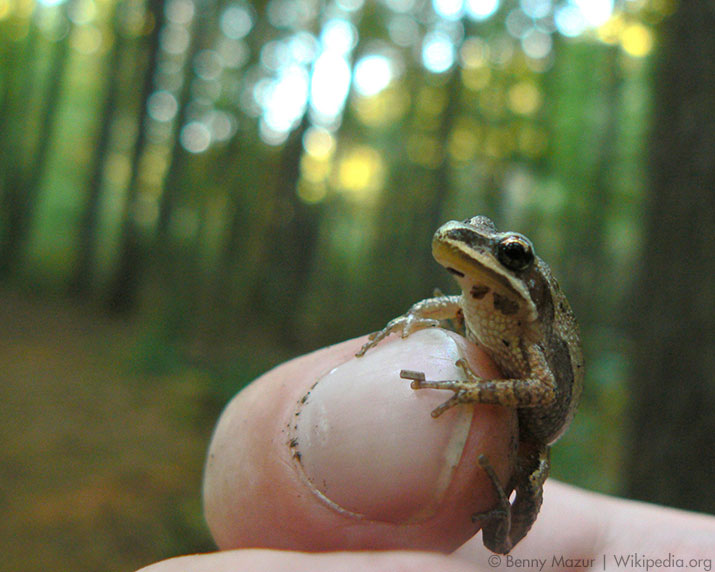 This summer the federal government issued an emergency protection order to help save Western Chorus Frogs in an area south of Montreal. CWF is thankful for the intervention, but we continue to call for action to prevent wildlife emergencies.
It's Not Easy Being Green
In Canada, Western Chorus Frogs can only be found in parts of Ontario and Quebec.
The tiny amphibians live in forest openings, woodland ponds, damp meadows and marshes. In winter, they hibernate beneath logs or underground. They are about the size of a quarter.

Western Chorus Frogs are an olive green to brown in colour with a white stripe on their side and dark stripes or blotches along their backs.

They eat beetles, flies and mosquitos and are often confused with boreal chorus frogs. Western Chorus Frogs breed in early spring and make a sound similar to what you'd hear if you ran your fingers down the teeth of a comb.

Habitat loss has impacted Western Chorus Frog populations in the Great Lakes / St. Lawrence and the Canadian Shield.

Although this one parcel of land in La Prairie, Quebec is now protected, there are other areas on the South Shore of Montreal and elsewhere that are equally concerning.

CWF is now studying the Outaouais (north of Ottawa) as it is one of the fastest growing areas in Quebec and has a resident population of chorus frogs. However, many of the sites in this region are being lost to urban expansion. CWF has been on site to inventory several occurrences where chorus frog sites have been drained, or are now a residential backyard or foundation.

"It is sad to have these spots be dead silent when we should be hearing the trill of the Western Chorus Frog," says James Pagé, CWF's Species at Risk and Biodiversity Specialist.
Hop To It
More conservation work needs to be done at all levels of government (federal, provincial and municipal) to keep us from getting to such a dire situation again, for any wildlife.
This is the second time the government has issued an emergency protection order under the Species at Risk Act and the first time on private land, Pagé explained.

In 2013 the government stepped in to protect sage grouse from the impacts of oil drilling on public lands in Southern Alberta and Saskatchewan.

Better planning is required to ensure that the needs of wildlife are met.