December 19, 2011
By Annie Langlois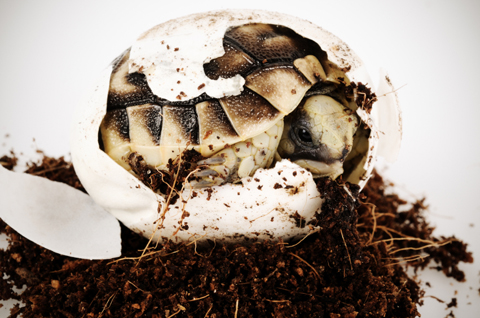 Putting animals in cages in the wild is not what most people would expect from wildlife biologists… Nonetheless, it's been a widely-used technique to protect turtle nests and the eggs they contain. Turtle nests can be raided by predators (like raccoons, skunks, foxes and chipmunks) in search for a high-protein meal - eggs. The protection of the nests has been shown to greatly increase the chance of egg survival, since these predators can no longer get to them. Eggs cannot flee or fight back, but as soon as they are born, hatchlings can flee to safer spots and hopefully grow to adulthood. These structures are often used to help hatchlings from turtle species that are at risk to give them a better chance of recovery.

But the use of these cages might also have detrimental results. Nest-cages are wire cages that are placed either above or below ground level. These structures might not only keep predators out of reach, some hatchlings might get stuck inside and not be able to leave the nest. Also, the above-ground cages could block the sun and prevent the eggs from warming up. This can lead to deformities for some turtle species and to strange population structures in others. For some species, hatchling sex is determined by the temperature of the nest. This phenomenon is called temperature-dependent sex determination, or TSD. A change in temperature can lead to only male or female turtles being born, which can have a big impact down the road.

At any rate, turtles choose their nesting spots with great care. By using nest cages, we are modifying the surroundings of the nest. Even with the best intentions, are we causing more harm than good?

Julia Riley, a biology Masters' candidate in Dr. Jacqueline Litzgus' lab at Laurentian University, is trying to find answers to that question. During the summer of 2010, she headed for Algonquin Provincial Park, a site where painted turtles and snapping turtles have been extensively studied. Both these species exhibit TSD and parameters like fecundity, age-at maturity, growth rates, home-range sizes and mating systems are known for both species. Since neither are species at risk, they became the best model species to answer her question. She spotted turtle nests, which were randomly assigned an above-ground cage, a below-ground cage or no cage at all. The idea was to monitor the nests and the hatchlings to figure out if their survival, health and sex are influenced by the type of cage that was used and if these parameters turn out to be different to those from nests without cages.

With the help of CWF, Julia was able to go back on the field during the summer of 2011 to get more data, and the results will soon be published. This is the first study of this kind, and the results may have a great impact on turtle populations' management. Many salt and freshwater turtles are species at risk in Canada. A better understanding of the techniques we use to help their recovery will be of tremendous help to conservation biologists.