By Jennifer Smart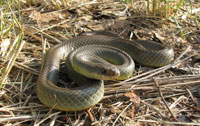 Photo: Jessica Martino
In spring 2008, the Canadian Wildlife Federation provided $7,500 in funding to Regina researchers to develop a conservation strategy for the threatened eastern yellow-bellied racer.
The eastern yellow-bellied racer has been of interest to the Committee on the Status of Endangered Wildlife in Canada (COSEWIC) since 1991, when the species was designated Special Concern. In 2004, their status was upgraded to Threatened as a result of habitat loss due to agriculture, loss of den sites and mortality on roads. Contributing to the environmental sensitivity of the racer is the rareness of their habitat — this unique snake is found in only two small areas in southern Saskatchewan.
The study, which is being undertaken in partnership between the University of Regina and the Royal Saskatchewan Museum, is the first formal study of the ecology of the racer to take place in Canada. Project researchers, Dr. Christopher Somers, Dr. Ray Poulin and Jessica Martino, are hoping that the information gathered through this study will provide documented insight into the distribution, habitat use and movement of this elusive snake. The resulting data will then be used to develop a long-term, sustainable conservation strategy for both the racer and other area snakes.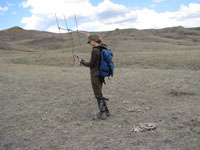 Photo: Jessica Martino
Field work began on the project following the snakes' emergence from hibernation. Using radio-telemetry, two racers and 11 bullsnakes were implanted with radio-transmitters to allow Martino to monitor their movements on a regular basis. During the summer, an additional seven racers and 13 bullsnakes were PIT (Passive Integrated Transponder) tagged, which requires injecting a small microchip into the snake that can then be read by a hand-held scanner. Additional snakes were tagged to provide further knowledge about population densities in the area.
By documenting the movement patterns and habitat use of the racer and bullsnake, Martino will be able to provide vital direction for their conservation. Her findings to date indicate that accessibility to cover, such as tall vegetation and burrows are habitat characteristics essential to the snakes' survival. Also identified was the racer and bullsnake's preference towards familiar hibernaculum sites. As a result, "[it] is crucial to identify and conserve these dens for future generations of snakes to thrive in Saskatchewan," notes Martino.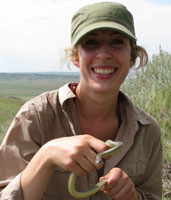 Photo: Jessica Martino
In the second field season, Martino will be expanding her research to include additional hibernation sites. By tracking an increased number of snakes in 2009, there is greater probability that new hibernacula will be discovered, which is vital in snake conservation. At the conclusion of her research, Martino will use her findings to make concrete recommendations for a racer recovery strategy.
In addition to field work, Martino has also been involved in conservation education in Val Marie, Saskatchewan — the town nearest the field site. "Snakes are misunderstood and persecuted, so I think that education is vital in changing peoples' attitudes towards these creatures," says Martino. Through her educational talks in Val Marie, which she plans to do more of next summer, Martino "hope[s] to make people understand that snakes — especially racers — are a crucial part of the ecosystem since they help to control many other species such as ground squirrels, moles, mice and grasshoppers." By taking a complementary approach to her research and balancing fieldwork with education, Martino and her team are helping to ensure that Saskatchewan snakes will keep on slithering.
Learn more about Canadian snakes and order the Canadian Wildlife Federation's Wild About Snakes poster.