June 5, 2009
By Jennifer Smart, with thanks to Carolyn Anne Budgell, BCWF Wetlands Program Coordinator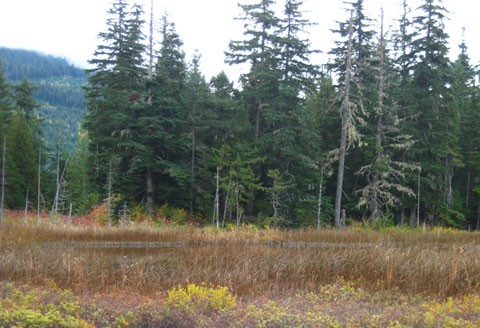 Photo: Carolyn Anne Budgell
Nearly 14 per cent of Canada is covered in wetlands. Globally, this number represents nearly one-quarter of all remaining wetlands in the world. As one of the country's most biologically diverse ecosystems, Canada's wetlands provide vital habitat to countless species. However, wetlands are more than just habitat; they play a fundamental role in helping to minimize environmental problems by storing flood waters, maintaining stream flows, reducing erosion, absorbing pollutants and recharging groundwater. Yet, despite their importance, wetlands are disappearing at an alarming rate.
In British Columbia, where wetlands account for nearly 5.6 per cent of the landmass, up to 85 per cent of original wetland habitat has disappeared in some regions. But B.C.'s wetlands, and the wildlife that call them home, have a powerful ally in the BC Wildlife Federation and the Wetlandkeepers program the organization created over 14 years ago. According to Carolyn Anne Budgell, BCWF's Wetlands Program Coordinator, "BCWF's Wetlandkeepers Courses address the impacts to wetlands and the wildlife wetlands support and provide participants with the knowledge and tools to address these issues and begin conserving wetlands across B.C. for future generations."
The Canadian Wildlife Federation grant will fund the Wetlandkeepers' Sea to Sky Series, which was introduced in 2009 and will run until 2011. This series of courses will focus on conserving wetlands in the Horseshoe Bay, Squamish and Whistler areas. During the 2.5-day fieldwork-oriented courses, participants will focus on a unique wetland site and learn the tools to rehabilitate, restore, and conserve the area. Wetlandkeepers participants will spend 35 per cent of their time in the classroom and 65 per cent of their time in the field. Upon completion of the course, participants will have enhanced a wetland and gained the knowledge to implement wetland stewardship projects in their own communities.
For more information on the program, or to participate in an upcoming course, visit BCWF's website at bcwf.bc.ca!
To discover more about your connection to Canada's wetlands, visit RiverstoOceansWeek.ca!
Classifying Canada's Wetlands
Each of Canada's wetlands falls under one of five categories; the following table provides the characteristics of each.
| | |
| --- | --- |
| Wetland Class | Characteristics |
| Bogs | Dense layer of peat; acidic; low nutrient content; water table at or near the surface; usually covered with mosses, shrubs and sedges; trees possibly present. |
| Fens | Covered with peat; water table at or near the surface; higher nutrient content than bogs; vegetation usually characterized by sedges and grasses; trees and shrubs may or may not be present. |
| Swamps | Stagnant or slow-flowing pool; high nutrient content; usually covered with trees or shrubbery. |
| Marshes | Periodically or permanently flooded; absence of trees; emergent vegetation; usually high nutrient content. |
| Shallow Waters | Include basins, pools and ponds, as well as wetlands found at beside rivers, coastlines and shorelines; submerged vegetation; floating leaved plants. |