By April Overall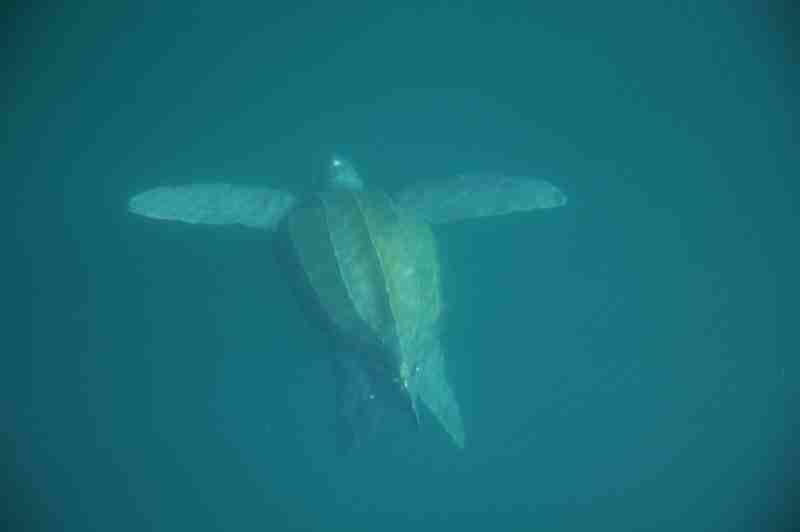 Weighing in at a hefty 500 kilograms, the leatherback sea turtle (Dermochelys coriacea) may seem indestructible; however, it is listed as endangered in Canada by the Committee on the Status of Endangered Wildlife in Canada (COSEWIC) and listed as critically endangered across the globe by the International Union for the Conservation of Nature (IUCN).
The Canadian Wildlife Federation's Endangered Species Program recently gave $16,000 to the Canadian Sea Turtle Network to determine the risk that commercial fishing gear poses to leatherback sea turtles in Nova Scotia waters.
Feeling Nesty
Western Atlantic Ocean leatherback sea turtles lay 5,600 eggs in a 20-year span, while their eastern Pacific Ocean comrades produce 2,200. However, females have had a rough time scouting out good nesting locations due to beach development. Once she finds her nesting spot, a female turtle and her eggs are at risk of human poaching. Moreover, after the turtles hatch and make their way from the beach to the ocean, many become distracted by city lights and don't make it.
Chow down
Every year, leatherback sea turtles migrate thousands of kilometres, from their nesting grounds to northern waters, on the hunt for their primary prey – jellyfish. The Canadian Sea Turtle Network reports that leatherbacks make their journey to feed in Atlantic Canada waters from the USA, Costa Rica, Panama, Colombia, Puerto Rico, Anguilla, Venezuela, Grenada, Trinidad, Guyana, Suriname and French Guiana.
But their journey en route to their feeding grounds and back is a dangerous one. Approximately 6.4 tons of marine debris is dumped into our oceans every year, and between 60 and 80 per cent of it is made up of plastics. Moreover, 60 per cent of the trash strewn on the beach and 90 per cent of debris floating in oceans is plastic. To leatherback sea turtles, many of these bits look like jellyfish, and they get gobbled down. While the turtles may be able to digest smaller plastic pieces, the larger pieces can plug up the digestive passage and cause internal injury and infection. In the last 40 years, over a third of the leatherback sea turtles examined had ingested plastic. Where does all the plastic come from? You might be surprised to hear that approximately 80 per cent is from land – landfills, industrial facilities, sewage and storm runoff. The remaining 20 per cent is due to merchant and passenger ships, offshore oil and gas platforms, recreational, commercial and military craft and fish farming operations.
The Net Result
The primary threat to leatherbacks is fishing gear. The species get caught in plastic straps, ropes, lines and nets and either drown or break free with a high risk of injury. When fishing nets are lost or thrown away, they are called ghost nets. These nets, which can reach epic proportions of 15 metres in depth and 90 kilometres in length, can continue to travel up to 600 years, catching sea turtles and other marine wildlife.
How the Canadian Sea Turtle Network's Research Fits In
The Canadian Sea Turtle Network's team is studying the risk that fishing gear poses to leatherback sea turtles in waters off Nova Scotia. To date, the Network has the largest collection of leatherback sea turtle data in Canada. This research will be fundamental to conserving the turtles that travel from 12 different countries to feed in northern Atlantic waters.