By Annie Langlois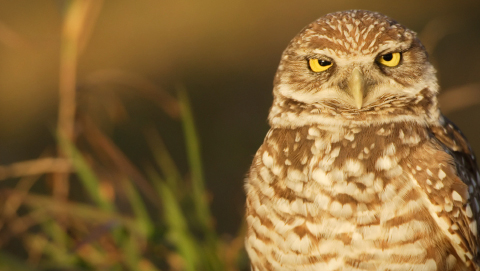 Once a common sight in the dry short-grass prairies of Manitoba, Saskatchewan, Alberta and British Columbia, the burrowing owl is now much more rare. The Canadian population of this little bird of prey has been declining since the mid-1970s. The burrowing owl occupies a mere 36 per cent of its original range. Its numbers aren't much better. Once boasting a population of 3,000 pairs, burrowing owls make up less than a third of that number these days. The species has become extirpated (or virtually disappeared) from Manitoba and British Columbia. It is now listed as endangered under the Species at Risk Act.

Although the exact reason for this rapid decline is still unknown, several threats are thought to have had a negative impact on the burrowing owl. The conversion of the native grassland to cropland, combined with the fragmentation and degradation of the owl's habitat, has taken a toll on the owl. Burrowing owls use burrows that have been abandoned by ground squirrels or other animals, but cultivation of the land and extermination of ground squirrels have left few available burrows - making habitat rare. Another threat the owl may be facing is the use of chemical pesticides to control grasshoppers and other insects, as it has a direct impact on the owl's main food source.

Several attempts have been made to bring the burrowing owl back in Manitoba. Owls bred in captivity have been released in the wild, with very little perceived success. Surprisingly, though, in 2008 10 breeding pairs were spotted in the province. This was great news, as the last time where such a couple had been observed was in 1996. Since some owls are already coming back, researchers from the University of Winnipeg will start reintroducing captive-bred burrowing owls. They'll simultaneously collect data on food habits, movement within the home range and other unknown factors of the species' ecology. Researchers will also try to compare the wild and captive-bred individuals' reproductive success to see if the reintroduction program is working. Finally, the species' critical habitat, necessary for its survival or recovery, will be identified. With this information, landowners and communities within the burrowing owl's habitat will be able to figure out what practices to adopt to promote the owl's comeback in Manitoba.

The goal in the burrowing owl's recovery strategy is to re-establish a self-perpetuating, well-distributed, wild breeding population of burrowing owls in their 1993 historical range in Manitoba. This important research, made possible with the help of CWF, is a great step in this direction.