By Olivia Craft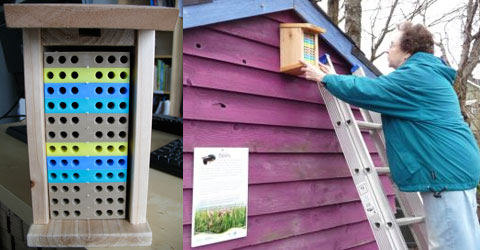 Photo: Alan Duncan and Hartley Rosen
Pollinators will soon be buzzing in Vancouver parks and greenways again thanks to the efforts of a youth organization dedicated to increasing the number of mason bees in their neighbourhood. The recent recipient of a $5,500 Canadian Wildlife Federation project grant, the Environmental Youth Alliance is aiming to bring blue orchard mason bees back to Vancouver parks as part of a larger effort to reverse the decline of native bee populations across North America.
The mason bee is a non-aggressive native bee with a natural knack for pollinating fruit-bearing plants. It thrives in wooden terrain, where it feeds on pollen and nectar. Since 30 per cent of the food we eat is dependent on pollinators, the focus on native bees was an obvious choice for the group, which has aptly named its project Park Pollinators' Paradise. The group hopes to generate respect for this keystone species, so essential and deeply connected to the region's ecosystems, economy and culture.
Creating habitat through volunteer-stewarded shelters and foraging sites, the group is setting up 53 bee "high-rises" in 50 neighbourhood parks and greenways, including larger nests in Stanley Park, Everett Crowley Park and Jericho Park. Thanks to these spaces, 4,320 female mason bees will now have a spot to nest, and the project estimates that some 65,000 mason bees will call Vancouver parks home in just one generation. The high-rises were built by woodworking students from Vantech Secondary and the superlodges by students at Britannia Secondary, both of Vancouver.
The Environmental Youth Alliance also plans to fill Vancouver parks with blooms. By sponsoring and planting apple trees, native plants and wildflowers, the group is ensuring a constant source of nectar and pollen throughout the mason bees' lifecycle, keeping them buzzing from bloom to bloom from March to July.
The Environmental Youth Alliance focuses on creating youth-centred sustainability programs in Vancouver and 15 countries worldwide. With this project they aim to educate community members on the importance of bees and other pollinators. To find out more about the project, go to masonbeevancouver.com.