By Stephanie Bonner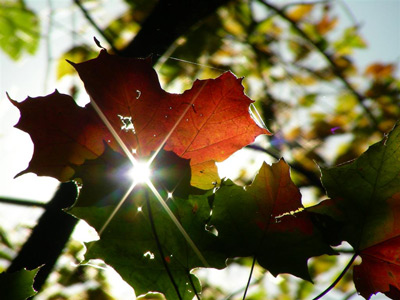 Photo: Marie-Hélène Larocque, CWF Photo Club winner
With warm patio weather a thing of the past, Mother Nature perks up our dampened spirits with a vivid quilt of rich colours strewn across treetops during the autumn months. How does she work her magic? Read on to learn some facts on the fantastic foliage transformation that occurs each fall!
The green leaves of summer get their colour because they contain a green pigment called chlorophyll. Chlorophyll utilizes the sun's energy to help trees live and grow.
As daylight begins to dwindle and fall approaches, trees prepare for winter and the chemical processes in leaves cease to produce chlorophyll.
The red, yellow and orange pigments that exist in leaves can only show their colours when the chlorophyll stops being produced.
Mixtures of pigments allow for a variety of colours during the fall season; maple, birch and oak trees all differ in their individual pigmentation, producing fiery reds, brilliant yellows and even golden bronzes.
Fall temperatures and weather usually determine the intensity of the pigments produced. A cold, rainy fall will likely give trees yellow and brownish leaves, whereas sunny autumn days with warmer temperatures will result in dramatic and brilliant foliage.