July 11, 2007
By Leigh Edgar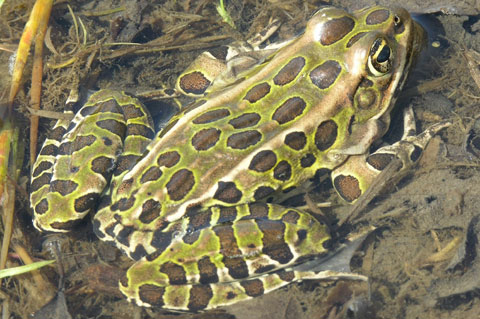 As a national wildlife conservation organization, the Canadian Wildlife Federation's overarching objective is to prevent more of Canada's fish, wildlife and plant species from being at risk. For the 585 species already at some degree of risk in Canada, we aim to reverse the threatening conditions that have lead to their decline.
CWF has a long history addressing species at risk in Canada. In the 1970s, we were a key player in the creation of the Committee on the Status of Endangered Wildlife in Canada (COSEWIC), which is the official scientific body responsible for assessing if a species is at risk, and if so, to what degree. CWF regularly attends COSEWIC assessment meetings and communicates key messages from these meetings to the public. Some people might not believe that species actually go extinct right here in Canada. It is important for Canadians to be aware that species at risk live in their neighbourhoods, how everyday activities can have unintended impacts on wildlife and their habitats, and what is needed to improve the conditions for those struggling to survive. We believe that an informed public will make decisions in the best interests of wildlife and to advocate for change at all levels of government for endangered species. CWF also sits on the Species at Risk Advisory Committee to the Minister of the Environment. We advocate for the legal protection of wildlife based on COSEWIC's biological assessments. We fund important academic research, as well as projects and efforts targeting species at risk.
CWF recently took stock of the threats to wildlife and its habitat and ranked our priorities accordingly. Not surprisingly, climate change, as well as water quality and quantity issues, scored at the top of our list, representing the greatest survival challenges to Canada's flora and fauna. We are confident and excited that CWF's focused priorities will translate into meaningful and measurable improvements for species at risk and all Canadians.
Last summer, CWF entered into an agreement with the Calgary Zoo with the goal of reintroducing captive bred endangered species, such as the black-footed ferret and the northern leopard frog, into the wild. More recently, CWF partnered with the Canadian Association of Zoos and Aquariums (CAZA) focusing on projects and research on Canada's species at risk. CAZA's 24 accredited zoos and aquariums are uniquely positioned to provide on-the-spot educational experiences and inspire visitors to care for species and their habitats. CAZA also offers an extensive network of biologists who are committed to furthering scientific knowledge through research, which directly contributes to conservation in the wild. CWF is proud to have funded important research on a variety of species at risk ranging from the black-footed ferret to the eastern loggerhead shrike.
CWF is embarking on a new era for species at risk. Committed to improving the status and reversing the threats to species at risk and their habitats, we are extremely busy behind the scenes developing an exciting new approach that will see significant amounts of money go directly to projects and research that will help Canada's imperiled wildlife. It is becoming more and more evident that financial resources (more specifically, the lack thereof) are hindering the realization of improvements on the ground. Stay tuned for more details in the coming weeks on how CWF will set the bar even higher for endangered species conservation in Canada.
Our commitment to species at risk doesn't stop there. Everything we do – the conservation issues we address, our education programs and our funding dollars – is geared towards getting people to care about Canada's wild species and spaces and ensuring they'll exist for generations to come. Five hundred and eighty-five is too high a number for us. The task at hand is colossal, but we're committed. Learn more about species at risk; learn about the additional species at risk research we fund, check out our Annual Report for 2008, now available on our website.