By Stacey Scott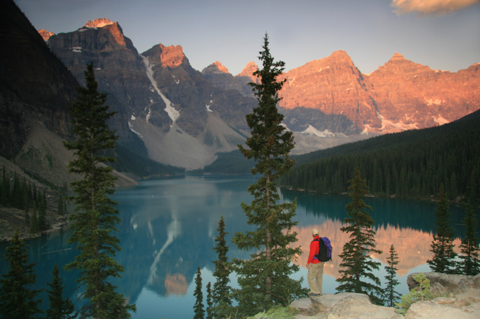 The hot summer sun heats up the streets of the city, the air is thick and dry and the days of summer will soon be a thing of the past. You need a break – make that a getaway – from the daily grind. But what kind of adventure can you have that's both easy on the Earth and on your wallet? Save your pocket change and your carbon footprint with ecotourism.
Ecotourism 101
Ecotourism is defined as responsible travel to natural places that conserves the environment and sustains the well-being of local people. While it incorporates traditional segments of the tourism industry, ecotourism is sustainable tourism that has set criteria aimed at reducing the environmental impacts of vacationing, including:
contributing to biodiversity and conserving the local ecosystem,
requiring very little consumption of non-renewable resources,
promoting and protecting local culture,
supporting local ownership and improving local sustainable development,
minimizing environmental impacts though the use of established benchmarks.
Contrary to popular belief, ecotourism is more than a nature-based travel experience. While a nature-based tourist may simply go whale watching, an ecotourist will go whale watching with expert local guides (who opt to protect the whales' health rather than just satisfy the tourists' curiosity) and only to stay at locally-owned and operated inns, benefiting the regional culture, environment and economy.
Green Your Globe-trotting
Before you pack your bags, here are some tips to ensure your trip is sustainable.
Hit the books. Learn a little bit about your destination ahead of time and plan on visiting the interpretive centres while you're there. Ecotourism isn't just about the environment; it is also a great way to support the local culture and learn new things.
Planes, trains and automobiles. If you are planning a road trip, rent a hybrid or a fuel efficient model and opt for a smaller vehicle. Taking to the skies? Take the most direct route and avoid layovers, since the worst carbon emissions happen during take-off and landing. Travelling in a large group? Take a train or bus. This will greatly reduce the amount of emissions produced compared to flying or driving in smaller numbers.
Be Conscientious. Indulging is essential to any vacation, but it's easy to get carried away. While away, be mindful of the resources you are using, like water and electricity. Stay on designated paths to ensure the ecosystem doesn't get disturbed and don't pick-up or take home shells, rocks or other treasures you may come across. These objects may make great souvenirs, but they are also an integral part of the ecosystem and shouldn't be removed from their natural place.
Buy local. You can help support the local economy by eating at locally owned restaurants, buying local produce and purchasing locally made souvenirs. Not only does this support the community, but it also reduces emissions from shipping and transportation.
Home for the Holidays
From the cool shores of the Atlantic to the Prairie grasslands to the snow-capped Rocky Mountains, Canada's landscape is remarkable from coast to coast. Our nation is home to thousands of plant and animal species, holds some of the world's most beautiful landscapes and is rich in art and culture. With such an expansive array of both natural and historical heritage, there are endless possibilities for eco-based activities, attractions, accommodations and adventures.
Park it. Feeling overwhelmed by the sheer variety of options? Start at a provincial or national park near you and take time to visit their interpretive centre or welcome station. You'll learn about the importance of conservation and the role particular ecosystems play in your own life. Don't forget your camera! Provincial and national parks are great places to hone your wildlife photography skills and learn about local wildlife.
Experience our country's roots. From Fort Henry to the Parliament buildings, our country is abundant in heritage sites, historical forts and national landmarks. Moreover, Canada has a rich First Nation heritage that can be enjoyed by people of all ages and backgrounds. Keep an eye out in your community for the chance to experience the energy of traditional powwows, the beautiful sound of throat singing and spectacular First Nations arts and crafts to gain insight into the cultures that shaped the Canada we know and love today. Peruse heritage sites via Parks Canada and First Nations activities at Indian and Northern Affairs Canada.
Harvest Memories. Agritourism, which highlights the country's expansive agriculture industry, is rapidly gaining popularity. Offering everything from a working farm holiday to a luxury ranch escape to an artisan marketplace, these unique vacation destinations will surely satisfy your inner country guy or gal. Plan your foodie vacation.
Whether you cap off the hazy days of summer with an afternoon at a local farmer's market or a cross-country road trip, you can easily be an ecotourist. For more information about eco-rated accommodations, destinations and activities for your region, visit Trail Canada's Green Travel Guide.