July 15, 2013
By Jerika Bradford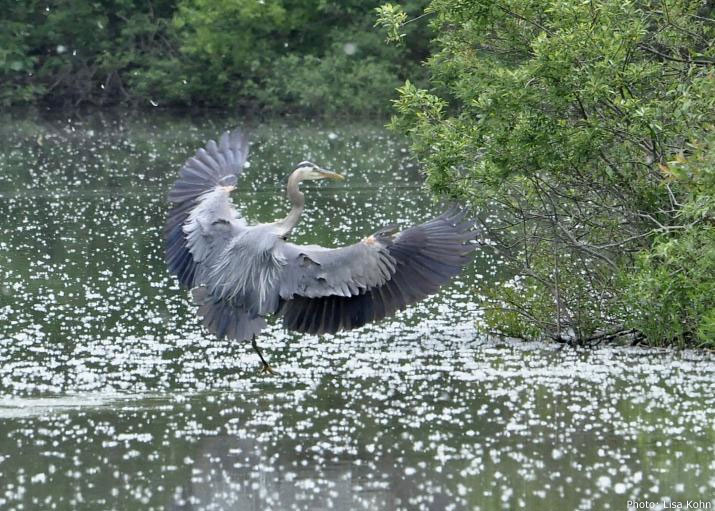 If you're like me, you can't wait to spend your time on the beach soaking up the rays. And let's not forget about all those countless hours spent swimming, fishing and canoeing with friends and family on the lake. I've always loved lakes and known they play an important role – but just how important?
How healthy your lake is makes a huge difference to your cottage experience. And of course it makes a big difference to the happiness and health of the wildlife that call your lake home. The first 10 to 15 metres of land surrounding lakes and rivers is responsible for 90 per cent of lake life born. That means our shorelines do all the hard work to maintain and keep life in the lakes we love!
That being said, it needs a little help. We need to lend our lakes a helping hand – okay maybe two hands – and help make it as healthy as possible. But how do we start? What do we need to do?
Our Love Your Lake program answers those very questions. It's a locally driven program created by the Canadian Wildlife Federation and the Centre for Sustainable Watersheds. Essentially, we're assessing the health of 11 Ontario lakes to improve and preserve natural shorelines.
What Lakes Are We Loving This Summer?
We finished training our staff a couple of weeks ago, and they're now on the lakes surveying approximately 3,500 shorelines. If you're on these lakes, keep an eye out for us and give us a wave!
Renfrew – Green, Paugh and Round Lakes
Lakeland Alliance – Chandos Lake
Eastern Ontario – Elbow, Otty and Loughborough Lakes
Sudbury – St. Charles, Hannah, Middle and Fairbank Lakes
Muskoka – Peninsula Lake
When we head out to a shoreline and get our pens and paper out, we're keeping an eye out for particular signs of shoreline health. We're looking at the different levels of degraded, ornamental, regenerative and natural characteristics of the shoreline and property, including:
Buffers . Is there a permanent strip of trees, shrubs, grasses and ground cover that helps to protect the water body from environmental impacts?
Erosion . Are there any signs of it? Erosion is a common and natural process that many waterfront properties encounter. The best way to minimize erosion is to retain the natural characteristics of the shoreline.
Lawn care. Did the landowners use pesticides and fertilizers? Those toxins can run off into the shoreline and cause a ruckus for wildlife and lake habitat.
Hardened surfaces . Is there any rock, concrete or metal near the shoreline? These structures eliminate food and habitat for all kinds of creatures in and out of the water. And they'll likely eventually fall into the lake too.
Septic systems. Where are they located? It's ideal to keep trees and cars away from the septic area and avoid using chemical cleaners, solvents and antifreeze.
Shoreline access and landscaping. What does the path to the water look like? Steep paths that cut straight down to the water create a straight runoff for water, ending in erosion. Instead use a curvy path to the water (technically called an S-curve switchback), which will prevent erosion in the long run.
After surveying the shorelines, we compile all the data collected to give personalized reports for each landowner on the lake outlining specific actions that would improve lake water quality and shoreline health.
For more information about Love Your Lake, visit LoveYourLake.ca.
See you on the water!