July 12, 2018
By Bailey Moreton
How are Animals Affected by Marine Litter?
With the longest coastline in the world, Canada has one of the best seats in the house to view all the abundant marine life that lives along its borders. Increasingly though, the glistening blue waters have become shrouded with floating landfills of garbage and lost fishing equipment. Many marine species who come into contact with this marine litter, suffer as a result.
Baleen Whales
Baleen Whales, like the North Atlantic Right Whale, can be particularly prone to coming into contact with marine litter. They feed like a vacuum cleaner, what's known as filter feeding, by opening their mouths wide on the surface of the water ¬and catching krill, other zooplankton, crustaceans and small fish. They also consume any marine litter which floats into their mouth. With one big gulp, they consume both the litter and their prey.
Leatherback Sea Turtles
Also occupying the channels close to the coastline are the Leatherback Sea Turtles. These creatures, migrate to Canada in the summer. During this period the waters of Atlantic Canada have one of the highest densities of leatherback turtles in the North Atlantic.
Swimming so close to the shore means Leatherbacks come into frequent contact with marine litter, such as plastic bags. According to Sean Brillant, Senior Conservation Biologist for Marine Programs at the Canadian Wildlife Federation, this problem is widespread amongst sea turtles.
"There have been reports that said half of all sea turtles in the world have visible signs of plastic in their stomach," said Brillant.
To Leatherbacks, plastic bags appear like jellyfish, their main food source. Once eaten, thousands of spines lining their throat prevent them from regurgitating the plastic. With it stuck in their system, plastic bags can lead to digestive inefficiency, reduced energy and starvation in Leatherback Sea Turtles.
Marine litter is not just affecting the giants of the sea, but animals of all sizes.
Zooplankton
When microplastics enter the water, microscopic animals, like zooplankton, can mistake them for food and ingest them. Since plankton are part of the diet of many species further up the food chain, researchers are worried the chemicals could pass up the food chain and cause health problems for various different species.
Fish and Shellfish
A report prepared for the International Maritime Organization (IMO), a United Nations agency, found evidence of microplastics making their way into the fish and shellfish available in supermarkets. Animals such as Sockeye Salmon, Albacore Tuna, mussels and oysters regularly eat the plankton and small invertebrates that consume microplastics. The plastic doesn't just remain in the animals' stomachs, but embeds in their tissue, meaning they cannot be removed by gutting the fish.
Plastic pollution doesn't just affect animals who are swimming through the litter, but soaring above also.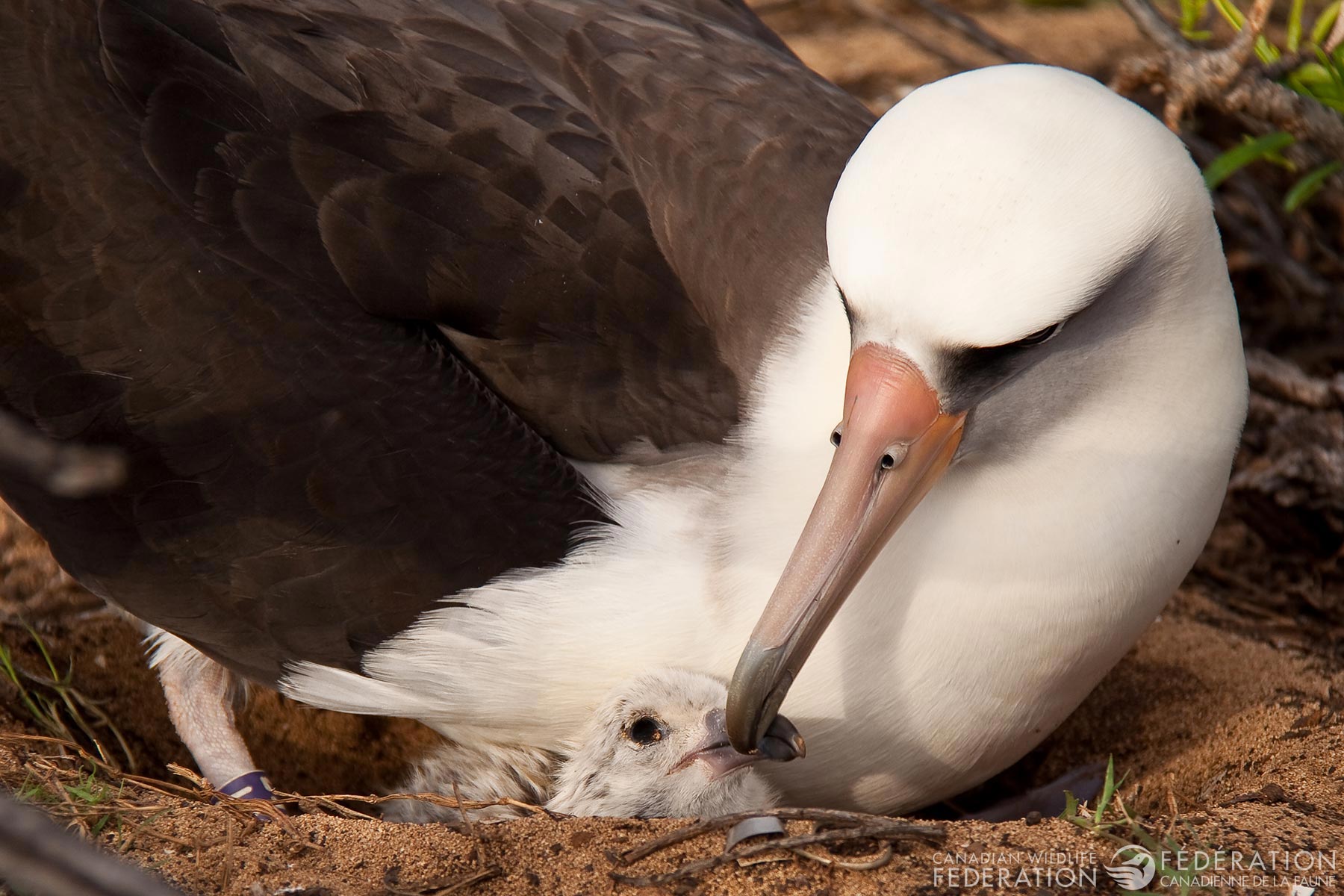 Seabirds
Seabirds soar above the seas where marine litter can float, but they are not protected from consuming it. According to Brilliant, the way seabirds hunt makes them just as susceptible to consuming litter.
"They're looking for bright colour red objects in the ocean, which is why their stomachs are filled with items such as bottle caps, and small bits of plastic," said Brillant. "They also have a strong sense of smell, and organic matter attaches itself to plastic, so when the ocean is blooming (algae and other plankton that seabirds feed on starts to grow), the plastic smells like their food source and the birds are attracted to it."
Albatrosses living on Kure Atoll, in the Pacific Ocean, have a terrible neighbour: the Pacific Garbage Patch. Researchers believe they may be eating fish eggs with garbage attached, and the plastic can fill up their stomachs and cut their intestines.
Every year, 500,000 albatross chicks are born, and every year approximately 200,000 die. Unlike Leatherbacks, albatrosses can regurgitate plastic, but young chicks can't, which is one of the main reasons why nearly half of all chicks who are born die before reaching maturity.
The Importance of Necroscopsies
Sometimes when marine litter enters an animal's system, it can be fatal. However, tracking and recovering these animals can be useful, because it then allows for a necroscopy to be conducted. This procedure is essentially an autopsy but is conducted on an animal.
Necropsies are critical to scientists as they allow them to examine the contents in animals, including its stomach contents and depending on the kind of waste found, the discoveries can be used to determine what harms a marine animal, or what waste that animal is coming into contact with.
"Animals can die for all sorts of reason, so it is important to know when we are the cause of death," said Brillant. "It's so difficult to learn from animals in the open ocean, so we can learn a lot from doing necropsies."
The regional response networks that make up the Canadian Marine Animal Response Alliance often perform necropsies if they find a dead marine animal, so they can gain as much knowledge as possible about the animal — they'll collect biological samples and measurements and examine the carcass for evidence of human activities too.
One animal who is particularly useful to study is the Northern Fulmar. This sea bird, found off the coast of British Columbia, feeds exclusively at sea. Because of this, they are an excellent source for information about how marine litter is shifting through the ocean. In a 2012 study by the University of British Columbia, it was found that out of 67 beached Northern Fulmars studied, 92.5 per cent of them contained plastic.
These numbers will only worsen, as it is predicted 99 per cent of sea bird species will have consumed plastic by 2050. More research and major changes in human behavior needs to be done, if marine animals are to have a chance to survive.