By By Jessica K. Majore & Nicholas L. Bott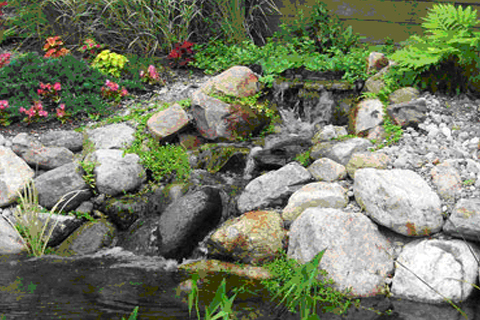 Photo: The Pond Clinic & Lotus Landscape Design

In an age of urban sprawl, failing infrastructure, polluted water and greenhouse gasses, we are hearing the word "sustainability" more and more frequently. In fact, it seems that everywhere we look there is a new green or sustainable product on the market. Companies are responding to consumers' needs and wants because we are starting to see the effect that products and human activity are having on our planet. For instance, in 1997 Charles J. Moore, a competitive sailor on his journey home from competing in the Transpac sailing race, discovered a vast expanse of floating plastic garbage in the northern Pacific Ocean. His discovery prompted research into the phenomenon. Researchers found that garbage generated worldwide was accumulating in a concentrated area due to the currents of the ocean. It was dubbed the Great Pacific Garbage Patch, also known as the Gyre. It is suspected that thousands of tons of plastic garbage are washed into the Pacific Ocean each year, carried by urban coastal storm water run-off. It has been speculated that the hidden area of the Great Pacific
Garbage Patch is greater in size than the state of Texas
At our current rate of consumption, human beings are using up the earth's resources one and a half times faster than our planet's capacity for renewal. In order for our children to enjoy a comfortable lifestyle such as the one we have come to appreciate, we need to adopt a sustainable approach in the way we live. Sustainable living simply means preserving our ability to maintain, indefinitely, a way of living. Areas of sustainable living include personal physical and mental health, our economy, housing, workplaces, natural habitats, food and water supply and energy. Sustainable living success principles also hold true when designing, creating and maintaining landscapes and outdoor living spaces. We now have an opportunity to redefine how we impact and influence the global environment every time we landscape our homes and communities. If you find yourself asking, "How can my backyard landscape make a difference?" here are a few thoughts and suggestions to help you get started:

Harvest Rain Water
Even though Canada has vast quantities of fresh water, the majority is not available for human use. In most cases, it must be processed and delivered to consumers through a complex and expensive infrastructure. The truth is, Canada has few water-shortage issues, but we do have many water-distribution problems. By choosing to install a Decorative Rain Barrel or a RainXchange Rain Water Harvesting System, you lessen the load on our municipal systems, saving money and resources. Harvested rain water can be captured, filtered and reused to wash your car; top up swimming pools, hot tubs and water features; and water your gardens. Gardens grow better when watered with rain water – and Mother Nature supplies it for free!

Mitigate Storm Water Run-Off
Did you know that the rooftop of an average suburban Ottawa home produces 4,700 litres of water every time it rains 2.5 centimetres? Ottawa, for instance, usually receives 88 centimetres of rain in a season – that translates into 164,000 litres of rooftop water run-off every year per household. Considering that there are over 250,000 single family homes in the region, we can easily calculate that Ottawa residential rooftops create over 41 billion litres of storm water run-off annually. So, where does all that water go? Right now it runs off your roof, across your lawn or driveway, down the street and into a sewer catch basin. Once in our sewer system, it flows through hundreds of kilometres of pipe, eventually dumping into the Ottawa River.
In many cases, storm water catch basins flow directly into our sewage treatment lines. Both water volumes must then be directed to our water treatment plants, where we spend millions of dollars processing the combined rain water and sewage mix before it is discharged into the Ottawa River. When our region is struck by a particularly severe rain event, the load created by the combined rain water and sewage is more than the city infrastructure can handle. To prevent flooding, the municipality has no choice but to discharge the excess water into the Ottawa River, thereby contaminating beaches with raw sewage and polluting our beautiful natural environment.
Engineers believe the answer is more infrastructure – not really sustainable, since centralized engineered solutions got us into this mess to begin with. The sustainable solution unfolds only when individual households take responsibility for their own storm water run-off, and the need for expanded infrastructure is virtually eliminated. Here are two ways you can do your part:

• Slow down the run-off. This can be achieved by installing French drains, rain gardens and Bio-Swales. French drains create an area for storm water to accumulate and slowly penetrate into the soil. Rain gardens and Bio-Swales use plant material and soil grading to slow down the movement of the water. By slowing down the water you are giving it more opportunity to percolate into the soil instead of running off. When you incorporate these run-off-reducing methods into your landscape design, you will also be helping to recharge depleting underground aquifers.

• Make it permeable. The technology is now available to make your driveway, patio and walkway a permeable surface. Rain water no longer needs to run off your driveway and into storm sewers. Permeable unit pavers allow water to drain through into a sub-base of gravel and then percolate slowly into the water table.
Create Wildlife Habitats
Urban sprawl is one of the biggest contributors to the decline of native habitats. Ottawa alone increased in size by 5 per cent between 1992 and 1996. Each year, thousands of hectares of prime agricultural land and native habitat are developed to house our rising human population. Each year, millions of animals, insects and microorganisms are displaced as we develop the land into townhomes and subdivisions and strip the land of viable soil, food, habitat and water. We can maintain some of that diversity by creating urban wildlife habitats within real estate developments that allow some animals and insects to flourish even in a human dominated landscape.
Here are some simple steps that you can employ to make your landscape more inviting to the beneficial critters that surround you:

• Add a water feature. By including water features in your landscape you will invite birds and other small animals to feel more at home in an otherwise very hostile urban environment. This can be as simple as a dish of water or as elaborate as a pond or stream. If you choose larger water features, see if you can incorporate harvested rain water systems, as discussed above, to minimize the impact on municipal systems.
• Create food sources for wildlife. Select plant material that will create food sources for the critters you are trying to attract. Consider nectar-rich flowers for hummingbirds and butterflies. Try to find plants that produce seeds, fruits and nuts for small mammals and birds. If the wildlife you attract doesn't migrate south in the fall, you might want to consider plants that will serve as winter food sources as well. Do some online research to find out what they like to eat. This WildAboutGardening.org site has lots of tools and articles to help you on your way.

• Be a landlord. Most animals require a dwelling. In addition to creating natural habitat, you may want to create places for your wildlife to nest. You can include housing like toad huts, birdhouses and bat boxes.
• Get certified. Check with your local conservation groups for available certifications and protect your newly built habitat. For more information on getting certified, visit The Canadian Wildlife Federation, or The National Wildlife Federation if you live in the U.S.A.

Reuse & Recycle Your Existing Landscape
If you are changing or adding to your landscape this season, consider reusing some or all of the materials. Rather than trucking away excavated soil, consider amending it by tilling under turf and herbaceous plant material and by adding new organic matter and compost. Any metal can be recycled and fetches a decent price as scrap. Natural stone and interlocking pavers can either be reused or given away through online sites like kijiji.com. Anything of historical or family significance should obviously be integrated into your new landscape. The seat from Grandpa's old Farmall tractor can be fashioned into a cool potting bench stool; a window from a now-demolished family cottage can become a picture frame for children's artwork and hung between fence posts; and transplanted perennials from the gardens of a recently deceased relative keeps their spirit and memory alive. The possibilities are endless, so let your imagination go wild!

Smart Plantings
If you plan ahead and plant smartly, your landscape will be beautiful for years to come. By preparing a long-term landscape plan, you prevent your plants from becoming overcrowded or too big for the space they are intended to occupy. Plants should complement one another, creating balance and symmetry within a garden. There is a plethora of gorgeous native plant varieties now commercially available that will thrive in your garden and require very little water, fertilizer and maintenance. If you must grow turf, try a mix of hardy sports-field turf varieties that include several different fescues and endophytic perennial ryegrass to help fight insect infestations.

Design Liveable Spaces
Increasingly, backyard landscapes are evolving into extensions of our indoor living spaces. The "outdoor room" is the new darling of the home design and renovation market – and with good reason. Sustainable landscapes offer so much more than the four painted walls of a finished basement or family room. They provide liveable spaces where families, couples and individuals can find peace, relaxation, healing and fun. In a sustainable landscape, neighbours and relatives come together, couples reconnect and children enjoy healthy outdoor wildlife adventures – away from the virtual online world. To learn more about designing liveable spaces, visit our sister company, lotuslandscapedesign.ca.

Use Conservation Technologies
Conservation technologies are fast becoming the accepted norm in landscapes. Where traditionally a designer or landscaper would ask, "Where would you like your deck?" or "How big would you like your flower garden?" they now ask, "How would you like to manage your storm water run-off?" or "Where can we plant trees that will help reduce your heating and air-conditioning costs?" Today's landscape designer is your personal environmental consultant, ready to help you save money and do right by Mother Nature. Here are just a few of the many initiatives and ideas being implemented this season:
• Low voltage LED landscape lighting – For about the same energy cost as leaving the porch light on, you can now artistically and dramatically light your entire landscape, allowing you to enjoy outdoor living into the evening hours.
• Constructed wetlands – It's been said that wetlands are Mother Nature's kidneys. They purify the environment and maintain a balance in nature. Landscapers can now create decorative water features with gorgeous constructed wetlands that help counterbalance the nature deficit in urban spaces. Constructed wetlands installed in every home will eventually capture, filter and reuse rainwater for both indoor and outdoor use.
• Smart irrigation systems –An overwhelming amount of water is used for landscape irrigation each year. Smart irrigation control systems can now precisely calculate site evapotranspiration rates, anticipate plant water needs by communicating with local weather offices and adjust irrigation schedules based on soil type, wind, heat and solar conditions. Harvested rainwater can be pumped through irrigation pipes to provide precise water to plants only when needed.
• Recycled construction materials – These days, manufactured "wood" products are made from a wide variety of materials including recycled plastic, fibreglass and recycled wood. Many of these new choices are made with less chemicals that emit less volatile organic compounds (VOCs) than their predecessors, making them a safe alternative to wood. They require no chemical treatment (as in pressure treated woods), require no maintenance and last up to five times longer than traditional wood products. Decks, arbours, pergolas and outbuildings can now be built to last a lifetime, reducing the amount of construction waste heading for our landfill sites.

Nicholas Bott is a Certified Irrigation Technician (CIT) and Certified Aquascape Contractor (CAC), and he was recently honoured by his peers as the 2008 CAC of the Year. As a creative leader in the Canadian landscape industry for the past 15 years, Nicholas, along with many charitable community water gardening projects, founded the Ottawa Water Garden Festival. Nicholas and his wife, Catherine, own The Pond Clinic, and together they help design and create beautiful swimming ponds, spas, waterfalls, streams, ponds, fountainscapes and rain gardens in Canada.
Jessica is the lead designer at Lotus Landscape Design. She is a passionate horticulturist with many years of professional experience in nearly every aspect of landscape construction and maintenance. She attended the Ontario College of Art & Design and then graduated with honours from the Algonquin College School of Horticulture.