By Sarah Coulber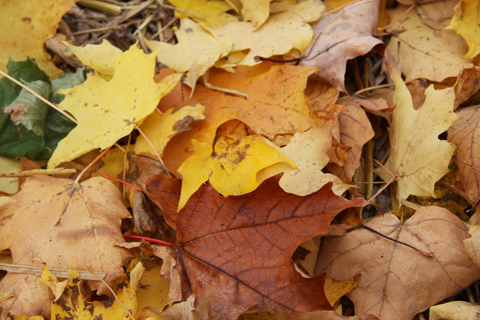 Canadians are seeing more legislation and bylaws that call for an increase in water conservation and a decrease in pesticide use. But gardeners have a variety of tricks up their sleeves to help them manage. One of them is the age-old practice of mulching garden beds with organic material, such as leaves or straw. The simple act of applying organic material can reward gardeners with a slew of benefits that help save time and energy, not to mention improve the health of the plants they grow.
Mulch benefits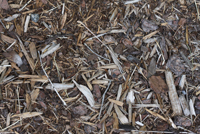 One of the most common reasons for applying mulch is to keep weeds down. Plants have a hard time growing through mulch, especially when it is applied thickly enough (from two to 15 centimetres depending on what material you use). If you spread mulch around your plants, any weeds that poke through will be easy to pull out, as their roots are only loosely woven in the mulch, rather than firmly embedded in hardened soil.

Organic mulch also keeps moisture in soil, preventing it from evaporating in the hot summer sun. This can make the difference to your plants' chances of survival and whether or not they thrive. It will also make a difference to how often you have to water your plants — if at all. You can apply mulch any time and leave it year-round, although some gardeners apply it after spring rains ease up. Most organic mulches, however, allow future rainfall to gently drip down and get soaked up by the soil below at a rate they can easily handle. Some mulches, such as tough wide leaves, might benefit from being broken up with a lawn mower first. This creates more space for rain to move through.

A layer of mulch also helps keep soil temperatures at more comfortable levels for plant roots during summer. This minimizes plant stress and allows for a more even soil temperature throughout the growing season. Mulch is even useful in winter when you have plants that are planted in zones that are beyond their natural range, as it smoothes out extreme soil temperature fluctuations due to freezing and thawing. If you plan to use mulch in winter, apply it after the first hard frost.

Mulch also prevents soil erosion and water run-off. Not only is this good for your garden bed, it also helps keep extra sediment out of water systems, especially in urban areas where water moves easily over paved roads and driveways instead being absorbed in the ground. As well, mulch reduces soil compaction because it absorbs a lot of the weight from walking and kneeling. And as the mulch decomposes, it returns nutrients to the soil. All this helps create a more workable soil, loosening up clay soils and binding sandy ones. Some gardeners also feel that organic mulches can deter moths from laying eggs that become cutworms in soil. It may also house beneficial creatures that patrol the garden in search of species you consider to be pests.
Mulch considerations
Of course, there are cons to everything, even mulch, but knowing them and acting accordingly means benefits should far outweigh any cons. For instance, spreading mulch too close to plant stems (including tree trunks) can encourage disease in summer or provide a warm place for nibbling mice in winter. So, keep your mulch a few centimetres away from the plants it surrounds.

Another potential problem is that some materials, such as wood chips, can cause a temporary nitrogen deficiency in your soil. Eventually, the mulch puts nutrients back into the soil as it decomposes. In the beginning, however, if your plants are yellowing, you could have a nitrogen issue. Correct this by adding amendments to your soil for a while. Options include cottonseed meal, compost tea and aged horse manure, among others.
Types of mulch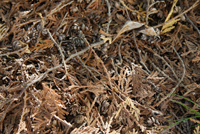 There are many types of mulch, and you'll find several right in your own garden. Take grass clippings, for example. It's helpful to leave them where they fall, as they'll decompose and nourish grass roots. If you have a big pile of grass clippings — say you went on vacation and let your lawn grow — you can bag the cuttings and spread them on your garden. Some people like to dry out their clippings a bit first, before application. Other sources of mulch include leaves — both from deciduous and evergreen trees — or wood and bark chips that are sold in garden stores. Buckwheat hulls and cocoa shells are also available as commercial mulches.

Some people opt for geotextiles — mesh fabrics — rather than organic materials. These textiles offer some of the benefits mentioned above, although they don't affect soil texture and nutrient levels in the same way. If you're stuck trying to make decisions on mulch choices — or simply looking for more information — you'll find several great books that deal with organic mulches, including The Mulch Book by Stu Campbell. For information on other ways to conserve water and garden organically, visit WildAboutGardening.org.