By Megan Findlay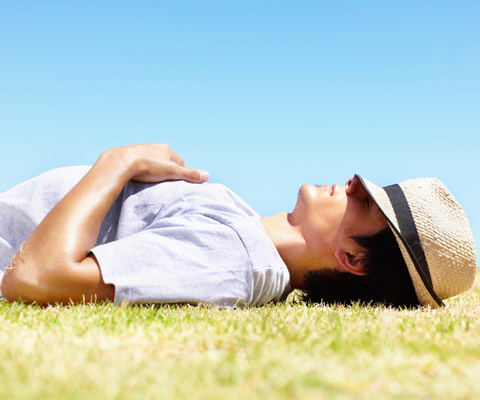 You're ready for summer. You've got hotdogs, lemonade and a shady spot in the backyard that's perfect for lounging. Times should be good...but someone has eaten your hotdogs, and your lemonade tastes suspiciously like shampoo. Then one day your whole house is taken over by strangers who overturn the furniture and bulldoze your vegetable garden.
Sound unpleasant?
We hope this never happens to you, but it does happen to many species of wildlife that are forced to share their homes with cottagers year after year. To escape modern life without thrusting it upon your wild neighbours, follow these simple steps.
Trees Can Litter; You Can't.
A tidy, manicured shoreline may look satisfying in photographs, but it has serious consequences for wildlife. Fallen leaves, branches and strips of bark nourish and insulate plant life, which in turn reduces harmful run-off to the lake, prevents shoreline erosion and gives dozens of animals, insects and amphibians a place to live. In the water, this type of natural litter also shelters vulnerable fish nurseries and encourages healthy aquatic habitat.
Give your shoreline a head start by planting native vegetation. Many animals and birds require dense foliage to travel between their shelter and their water source, so consider using shrubs, grasses and flowers to create a wildlife corridor through your property. When you're ready for a swim, resist wading into the water, which damages fragile shoreline life; use a dock instead and make sure it's a floating, pipe or cantilever model, which protect underwater habitats more effectively than the traditional crib dock.
You Wouldn't Swim in Javex...
Popular mythology insists that it's okay to soap up in the lake as long as you use biodegradable shampoo. The truth? "Biodegrable" only means that your product will break down into its elemental form, not that it will vanish altogether. Fish and other aquatic animals need healthy habitats, not Tropical Cravings Conditioner. Keep the suds indoors and use EcoLogo products when washing up. Most of all, remember that you're out in the wilderness; a little bit of dirt is part of the pleasure!
A lot of dirt, though—especially when combined with nasty odours emanating from the ground—is very bad news for an aquatic habitats because it likely indicates an outdated septic system that is leeching human waste into nearby lakes. Too much of that unmentionable stuff, and your lake will become overwhelmed with algal blooms, which choke out other species. Besides, human sludge does not create a relaxing dockside atmosphere. Enlist a professional to update your septic bed and, while you're at it, convert to low-flush toilets and low-pressure showers to ease your demand on the water supply.
Fun Without Fallout
For many people, one of the best parts of cottage life is the opportunity for shenanigans: a round of capture-the-flag in the woods, luxurious hours swimming and fishing in the family boat and backyard BBQs catered with all the food you dreamt of while shovelling snow last winter. Thank goodness you don't need to sacrifice that kind of fun in order to protect the wildlife around your cottage—it just takes a few small adjustments.
Playing in the woods is a great way to get to know your natural neighbours, but stay on cultivated trails as much as possible to avoid trampling vegetation. When hunger strikes, fire up your BBQ with a chimney starter instead of traditional petro-based lighter fluid, and stay away from charcoal, which releases more toxic byproducts into the air than gas and propane models.
Most of all, manage your garbage responsibly: don't leave discarded fishing lines in the lake, recycle and compost as much as possible and discourage wildlife from depending on your leftovers by storing all trash in tightly sealed containers and keeping pet food dishes indoors.
Update Your Flintstone Fridge
That fridge that you bought for your cottage twenty years ago uses more than four times the energy of a new, efficient model and is costing you at least 100 unnecessary buckaroos a year. In fact, retiring old appliances from your primary home to your cottage costs more over time than trading them in for newer models. Many appliance retailers, utility companies and local waste-management services will pick up your old fridge for free, so you won't even have to leave your patio chair to see those old hyrdo-zappers gone. Visit Energy Star for more information.
Once your cottage appliances are purring away at energy-friendly levels, pour yourself a glass of ice-cold lemonade and go sit outside to enjoy a spectacle of the stars—if you can see them. Not only does light pollution compromise romance, but it can also disrupt the behaviour of noctural species that rely on natural light for navigation. Replace offending lights with solar LED motion sensor models and use the money you save on electricity to buy an astronomer's quick reference guide. Your kids will think you're a genius.