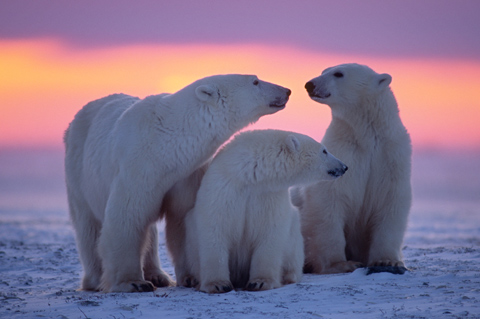 Cannibalized Cubs
Shrinking and late-forming ice is forcing the polar bears of Churchill, Man., to adopt drastic hunting measures. "There's nothing much to eat along the Hudson Bay coast in the fall other than other bears," says biologist Ian Stirling, a retired Environment Canada scientist and leading expert on polar bears.

Bill Watkins, a zoologist with Manitoba Conservation says the polar bears (Ursus maritimus) used to prowl along the ice of Hudson Bay as early as November 1, but freeze-up is now weeks later. Bears lose about 30 per cent of their body mass in summer, burning about a kilogram of energy every day as they wait for a platform of ice from which to hunt seals in the fall.

In the fall of 2009, tour operators and scientists reported between four and eight cases of mature male bears eating cubs and other bears in and around Churchill. No one has been able to confirm whether the adult animals were already dead when the hungry bears began to feast. "I've worked with the population for 35 years and never saw a single case of cannibalism," says Stirling. "That's a very big number."

It's not uncommon for adult males of several different species to kill and eat young; usually it's done to bring the female into heat and eliminate genetic competition. The timing of the reported killings points to starvation as the main motivation, says Stirling, noting that females won't be "reproductively receptive" until spring.

Local Inuit leader Jose Kusugak disagrees, saying such incidents aren't out of the ordinary. "A male polar bear eating a cub becomes a big story, and they try to marry it with climate change and so on. It becomes absurd, when it's a normal occurrence," he told CBC News.