September 9, 2015
By Holly Wilson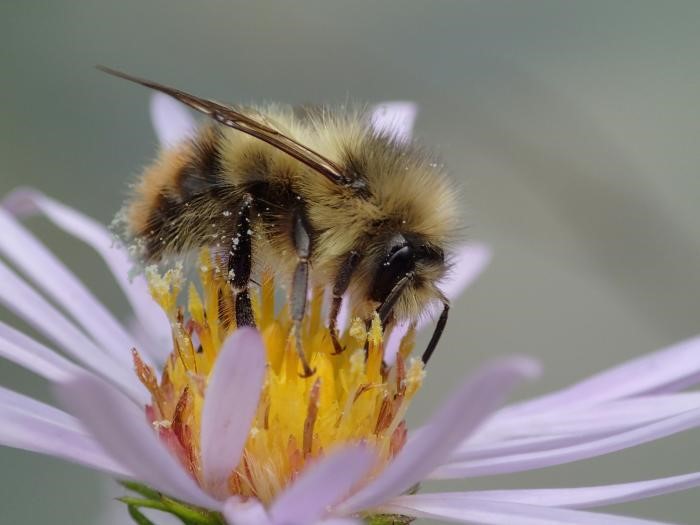 You're out mucking around in the garden when a flash of yellow whizzes by. Your first instinct might be to swat it away, but when you pause to see a soft, fuzzy bumblebee land on a nearby flower, you think twice. As it dances its way from bloom to bloom, it's hard not to admire the great work these amazing pollinators provide and just how much they help your garden come to life.
Can you imagine a garden without bumblebees?
The Buzz about Bumblebees
The decline in bumblebee populations in North America is not a new topic. We've known for years that pesticides, parasites and habitat loss pose a serious threat to these bees. However, a new study released in July have scientists, conservationists and the media buzzing; climate change is now thought to be a leading cause, possibly the leading cause, behind bumblebee populations dropping at such an alarming rate.
Dr. Jeremy T. Kerr, a conservation biologist at the University of Ottawa, was the lead author of the report published in the journal Science. The researchers compiled approximately 110 years' of data, specifically looking at bumblebee populations in North America and Europe. The data included more than 420,000 observations in 67 species. The researchers also looked at climate for each year.
Changing weather patterns and rising temperatures are forcing a number of wildlife and to adjust their migration periods, breeding habits and ranges. Bumblebees thrive in cooler climates so it might be assumed that as average temperatures rise, they would move north. However, one of the key findings in this study was that while the southernmost points of bumblebee ranges are receding, the bees are not fleeing north to compensate, possibly due to lack of suitable habitat. This means their range is altogether shrinking – and it's doing so very quickly, approximately nine kilometres per year. According to Kerr, the bees are simply not able to re-populate in new areas fast enough to keep up with the effects of manmade climate change.
What Does this Mean for Us?
Approximately one-third of our food supply is owed to pollinators and bumblebees are some of our best workers! The long curved hairs on their hind legs (known as baskets) collect pollen and nectar as they go from flower to flower. They are a major contributor in pollinating many of our food crops, such as tomatoes and strawberries, and also many native wildflowers. The loss of entire bumblebee populations could be detrimental to our food supply.
How Can We Help?
On a larger scale, some researchers are looking at assisted migration to help the bees shift their range and hopefully thrive in new habitat.

On a local level, there are a number of things we can do in our own backyards to help encourage bumblebee populations!
Do choose a variety of colour for your blooms – bees are especially attracted to purple, blue and yellow.
Don't use synthetic pesticides in your lawn or garden.
Bumblebees have longer tongues than other bees and can access nectar and pollen from many different flowers. Do plant a variety of native and heirloom plants that bloom throughout early spring (fruit trees, willows, etc.) to late fall (goldenrods, asters, etc.).
Do plant fruits and vegetables – bumblebees will pollinate tomatoes, eggplant, peppers, melons and berries.
Do leave some soil undisturbed for bumblebees as they often make their nests in soil.
To learn more about bumblebees in Canada, click here!