September 14, 2017
By Annie Langlois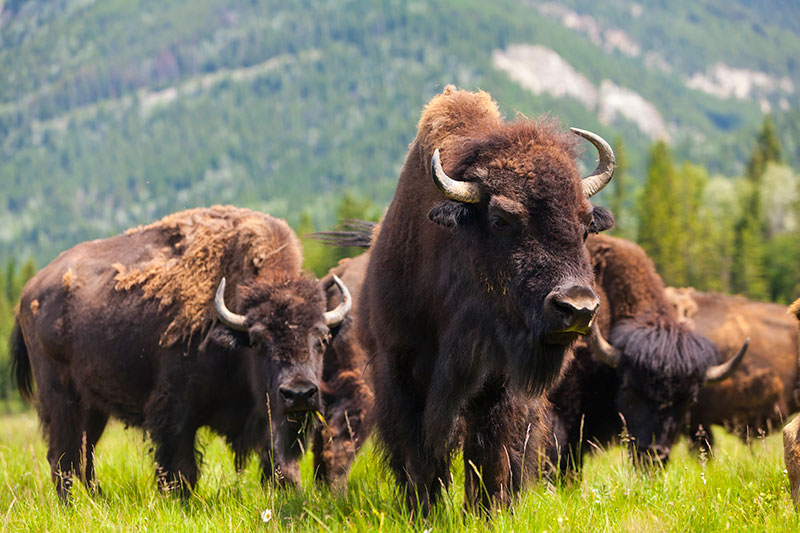 North American Bison

The impressive North American Bison is our largest land mammal. There are two subspecies of bison: the Wood Bison and the Plain bison. To the uninformed eye, they are not easy to tell apart, even if they are different! Mature Wood Bison males weigh around a metric ton, like a small car, while the slightly smaller, but stockier Plains Bison males weigh in at about 750 kilograms. Both subspecies can stand over two metres tall. Plains bison have larger beards and males look like they are wearing a lighter coloured fur vest, while wood bison have a more prominent shoulder hump. They also inhabit different habitats: Plains Bison prefer open fields and meadows, whereas wood bison prefer more northerly woodlands with large wet meadows. They are grazers, and historically, they were known to move hundreds of kilometers in search of food throughout the changing seasons!

Bison herds greatly influenced the ecology of their habitat: plant growth was encouraged by their grazing, the soil was fertilized by their waste, birds and small mammals would line their nests with bison hair and some creatures even made use of the shallow watery wallows which are created when bison rub themselves on the ground.


Before Europeans arrived on North American shores, there were likely some thirty million bison across the continent. Gigantic herds of these large herbivores were found from the grasslands and woodlands of the Prairie Provinces to the eastern foothills of the Rocky Mountains and up into the rugged Yukon. Their range extended as far south as Mexico! And for thousands of years, the Indigenous peoples who shared the land with the bison built their very existence around these very herds. Blackfoot, Cree, Ojibway, Assiniboine, Nakota and Dakota hunted bison, making use of every part of the animals to make a variety of items necessary for their survival including medicine, clothing, utensils, shelter and many others. In many Plains Indigenous myths, buffalo gave themselves up willingly as a food source for humans, and therefore have a special position of honor and respect. Festivities were also held every year to celebrate the arrival of the herds after their long migration.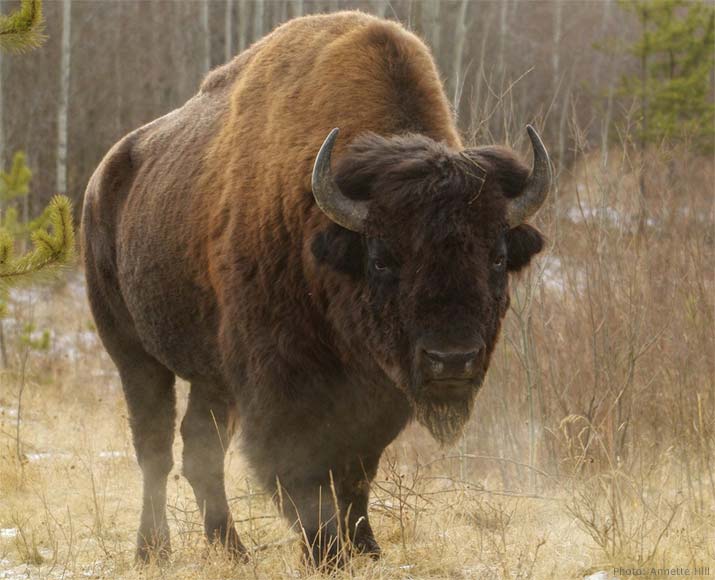 Massive bison migration is now a thing of the past

But this massive bison migration is now a thing of the past. After the arrival of European settlers, excessive hunting of millions of bison for their meat, hides, or for sport, nearly caused their extinction by the late 1800s. Since about 1900, bison herds have increased in numbers thanks to conservation efforts, but populations are still not close to what they once were. Bison have lost much of their historic range to agriculture, urbanization and other human development, and the Wood Bison is currently considered a species at risk. Bison also face other threats like diseases, such as brucellosis and tuberculosis, and crossbreeding with other subspecies. Today, most bison either live in protected areas or are being raised on private ranches, and initiatives are in place to help protect more of the prairie and boreal forest ecosystems that the bison call home.

It's important to work together to ensure that both subspecies of bison remain part of our natural heritage! Learning more about it with Hinterland Who's Who is a great start. Please visit HWW.ca to read our fact sheet and view our new videos on the North American Bison!