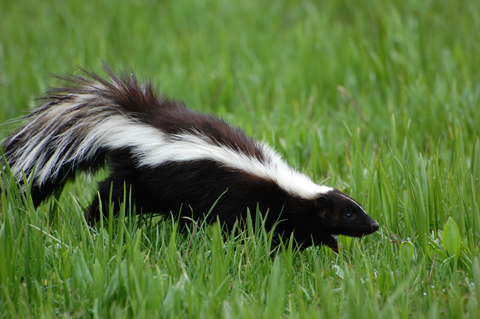 Raccoons, skunks, and moles can damage your lawn by digging. Chances are, however, that they are digging to get at the grubs in the soil. Eliminate the grubs (see Insects) and you will deter these furry critters and improve the health of your lawn.
While bothersome, the damage from raccoons, skunks, and moles may be far easier and cheaper to manage than dealing with the grubs alone. When these mammals have finished their feast, they will likely move on to another good feeding area.
If moles do hang around, they may provide other benefits such as mixing up the soil, which creates a natural aeration as well as bringing mineral-rich soil up to your lawn's roots.
If you really can't live with moles in your garden, try burying a pop bottle in the ground near a hole to their tunnel, with the open top of the bottle sticking out. Passing breezes will catch the lip of the open bottle, producing a sound that will encourage moles to move their homes to the bottom of your garden or beyond.