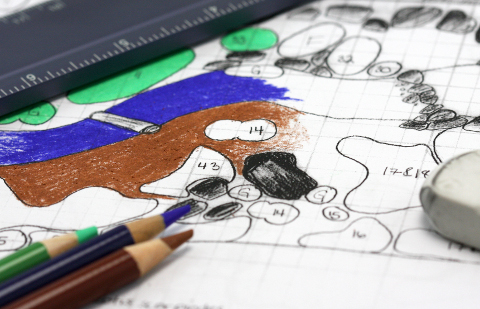 Before you start buying plants, building structures, and digging in, it is very useful to first make a map of your yard. Through the development of this map you will accomplish three important tasks:
You'll see your property on paper and be able to picture ways of managing the elements you want to change.
You'll create an inventory of what you already have in your backyard. This inventory will define the starting point for your project. Once you know exactly what you have, you'll be ready to plan what you want to do.
You'll get a clear idea of exactly how much space you have to work with and what can be feasiblely added.
Plotting Your Course
Measure the four sides of your property.
To find out where shadows will lie in your yard determine which direction is north.
You'll need a sheet of graph paper to work out a scale for your map. For example, one square centimeter of graph paper could equal one square metre of your yard. The scale you choose will depend on the size of your property.
Now show the locations of existing shrubs, trees, water sources, sheds, septic systems, underground cables, travel lanes, patios, fences, and so on.
Go through the following sections noting on your map those items that already exist and determining what is missing and what needs to be considered.
Create cut outs for those things you would like to add such as trees, bushes or birdhouses, and shift them around to find a good location for them on your map.
Consider what types of plants you would like to add and where in your yard they would grow best.
When your rough site plan has been worked out, you can draw up a final version.
Taking Inventory
Before you start thinking about what you need to add to your garden, you first need to see what is already there. You might be surprised at what uses wildlife can make of what is in your garden. Check out the availability of:
Food. What plants do you already have that provide food for wildlife? Do you have trees or shrubs that provide nuts, fruit, seeds, or berries? How about some good sources of pollen and nectar? Bird feeders? What is missing?
Water. Are there any sources of water in your yard?
Shelter. Are there evergreen trees or shrubs which wildlife can use as shelter throughout the year? Do you have deciduous trees which provide nesting sites and food for wildlife? Could you add any shrubs or trees? How about nesting boxes?
Space. Does your yard have a variety of plants of differing heights (tall trees, shorter trees, shrubs, flowers, grasses, and ground cover)? Are things arranged in such a way as to be beneficial to wildlife? (See edges)

Add these items to your map. Decide what is missing and what you would like to add to your garden.
Sun, Wind and Soil
Knowing the physical features of your yard will allow you to choose plants that are suitable to each location and which will prosper without a lot of hard work and chemical inputs. Consider:
The amount of sun in each area of your yard. Indicate on your map areas of full sun, partial sun, and shade, and be sure to choose appropriate plants for these areas. Check your yard at different times of the day as a spot which is shady in the morning may be sunny in the afternoon (and vice versa).
What is the prevailing wind? Indicate the direction on your map and consider which areas have protection from the wind and which are open to it.
Soil conditions. Check out the texture of your soil. Get a soil sample and have it analyzed. (You can purchase a do-it-yourself soil testing kit, or check with landscaping companies or garden centres for ones which provide this service.) You can improve the condition of the soil by adding compost, manure, or additional soil, but you can also choose plants that will thrive in the conditions you already have.
Neighbouring Wilderness
Check out the areas around your neighbourhood, especially those that have been left wild. What types of trees and other plants are there? If you try to recreate the habitat which naturally exists in your area, you are more likely to have success in attracting wildlife.
Wildlife Visitors
What types of wildlife already visit your yard? What wildlife can be seen in your area that you might be able to attract to your yard? Think about what you would need to add to your garden to attract these visitors.
Living Space
Don't forget to consider your family's use of the garden. Indicate on your map areas of heavy human traffic. Allow for play areas. Place feeders and water sources in areas that are easy for you to access for maintenance and where they can be seen for your enjoyment.
Photo: Jon Hudon