Design Style
Much like the variety of plant life in gardens, design styles are plentiful. A formal garden is based on straight lines and geometric shapes. A Japanese garden puts a lot of thought into the placement of each plant, combining them with water and stones and emphasizing foliage and texture more than flowers. A naturalistic design uses curves more than straight lines, as well as interesting topography and a combination of vegetation layers (trees, shrubs, perennials, and ground covers) to create more natural plant groupings.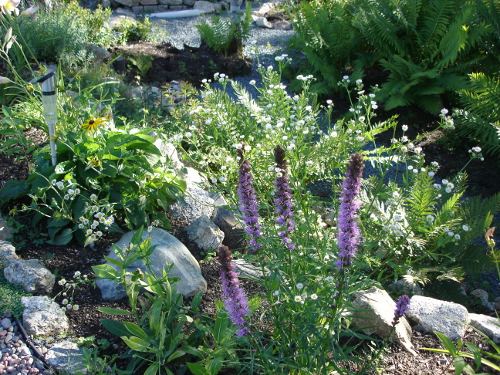 photo: Susan Whalen
Foliage
Many gardeners choose their plants on the basis of flower colour alone. Although colour in the garden is a wonderful thing, many plants spend more time out of bloom than in bloom. It makes sense, therefore, to carefully consider the appeal of a plant's foliage when making your choices. Plants such as ferns and grasses have a very important role to play in any garden. They can provide interest, variety, and beauty at times when nothing is in bloom. They can also provide great backdrops or complements to flowers in bloom.
Foliage varies in form, texture, and size. Plants such as columbine or Dutchman's breeches have small, delicate leaves, while those of wild ginger are large and rounded. Jack-in-the-pulpit has a fascinating shape. The foliage of grasses such as tufted hair grass can have a beautiful flow. Some plants have smooth, shiny leaves, while others have soft, downy ones. By combining a variety of foliage shapes, sizes, and textures, you can create great interest in your garden that will carry it through times of limited blooms and even enhance it when many flowers are blooming.
Although we often think of plant foliage simply as green, there is a great array of colours. Tonal values vary from very deep, dark green to incredibly pale. Some plants, such as pearly everlasting and silver buffalo berry, are even blue or grey. You can get great variety by paying attention to the foliage colour of the plants you choose and the way you place them in your garden. Silver-coloured foliage can stand out nicely against a backdrop of dark green leaves.
And don't forget the value of beautiful fall colours and those that stay green throughout the winter. Some thought to foliage in plant selection can add some dramatic colour at a time when blooms are dying out or gone.
To help plan your design, check out some of your favourite gardens and pay attention to which foliage combinations appeal to you. When shopping for plants, place some in various combinations to see what looks good together. Flip through garden magazines to search for interesting groupings and try to re-create them with plants of similar foliage shape, texture, and colour.
Colour Schemes
When it comes to bloom colour, there is a multitude of colour schemes to put into play in a garden setting. The choice is definitely a personal one. However, there are some basics of colour theory that can be used effectively in garden design.
Monochromatic colour schemes limit themselves to the use of only one colour. However, the colour can appear in different values, i.e., lighter and darker shades. A monochromatic colour scheme can give a unified feel to a bed. To create more interest, choose plants with a variety of flower shapes and sizes.
Analogous colour schemes extend the colour selection to include colours found next to each other on the colour wheel. For example, you could mix red, red-violet, and violet, or orange, orange-yellow, and yellow. This scheme gives a bit more variety but still has a harmonious feel to it.
Complementary colour schemes combine colours at opposite ends of the colour wheel, such as pairing orange and blue, green and red, or purple and yellow. The effect can be quite dramatic, especially if you use very bright colours (e.g., a bright red flower against some bright green foliage). However, such combinations can also be tiring for the eyes if overdone. For a softer effect, use complementary colours in paler tones.
Pastel colour schemes involve soft colours such as pink, lilac, or peach. These colours give a peaceful, soft feel to a garden, but can sometimes appear washed out in bright sunshine.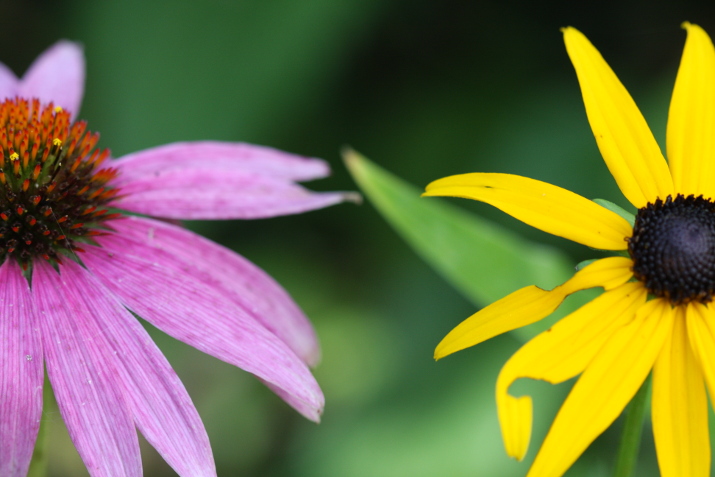 Warm colour schemes use colours that suggest warmth, such as red, yellow, and orange. These colours often make an object appear closer. Warm colours are thought to evoke warmth and energy. Red is the most powerful colour.
Cool colours are those that suggest coolness, such as blue, purple, and green. These colours make an object seem farther away and are sometimes used at the end of a small garden to make it appear larger. Cool colours are felt to be calming and restful.
White flowers can add some much-needed brightness to shady areas of the garden. However, bright white flowers can sometimes draw the eye and throw off an otherwise nice balance of colours. Some people use white blooms to separate other colours that may not appear overly harmonious together.
Colour schemes can be applied to an entire garden, a specific bed, or one part of a larger bed. The best way to decide on a colour scheme or schemes is to visit existing gardens and see what colour combinations appeal to you. Look through magazines as well. Try cutting out some plant images from magazines and playing with different combinations to see which ones look good together.
Form and Structure
The form and structure of garden elements have a huge effect on the appeal of any garden. Items such as paths, arches, accent pieces, and bed shape give a garden a certain feel. Plants also play an important role in shaping its appearance.
When it comes to structural plants, the most obvious ones are trees. Trees are the best place to start when choosing plants for your garden. They will not only have a huge impact on the garden's character, but also affect its ability to support various other plants. They will also produce shade, provide protection from wind, and affect soil moisture. Therefore, you should decide where to place any trees before you start choosing smaller plants.
Trees can add to the beauty of your garden in many ways. They can also provide privacy from neighbours and help block off unwanted street noise. In choosing a tree, the first thing to consider is its size at maturity, both its height and width. Don't choose a tree that will reach a mature size of 30 metres in height if you have a small lot with overhead hydro wires. Also, be sure not to place trees too close to your house. You don't want their roots to affect your foundation or their branches to block the view from windows. The same consideration should be given to shrubs, which can also reach sizes that can be significant in smaller gardens or even larger ones if wrongly placed. If you plan for their mature size, you won't spend years trying to prune plants to an unreasonable size.
Although they don't have the same impact as trees and shrubs, herbaceous plants can still add to the structure of your garden. Plants are often classified according to their different shapes (see the table below for some examples). To give your garden interest, try to create plant combinations of different shapes. Many plants have a sort of mounded shape to them. There are a number, however, such as some of the taller grasses, that are more vertical in nature. By adding a vertical plant to more horizontal ones in a grouping of three to five, you can create more energy in the design. Even among the horizontals, try mixing different shapes and heights.
Examples of plant shape categories
Category

General shape

Examples of plants

Fans and fountains

Upright with outward movement at the top

Yucca, sword fern, deer fern, Indian grass,
Virginia
wild rye

Mounds

Round and full, as wide as they are tall

Upright sedum, wild geranium, coreopsis,
false sunflower

Columns and cones

Vertical, upside-down cone, pyramid or
pillar shapes

Many evergreen conifers, silphiums

Spikes

Tall, upright spikes—taller than they are
wide

Fireweed, wild lupine, black snakeroot,
liatris, cardinal flower, foxglove, beardtongue

Unusual

Unique shapes

Rattlesnake master

Sprawling mats

Low, spreading
plants

Barren strawberry, foamflower, mitrewort
Contrast and Reptition
By creating contrast in a garden, you generate real punch. Contrast can be created by pairing plants of different colour, shape, or texture. The bright red of the cardinal flower is given an extra jolt if it's beside some deep green foliage. The delicate foliage of columbine contrasts nicely with the thick leaves of wild ginger. Play with your plants while in their pots to check out different combinations before planting them.
Repeating a certain element at various intervals will give your garden a unified feel. You can repeat bloom or foliage colours, plant shapes, or textures. You don't want it to be identical throughout, but by repeating a particular theme in varying combinations you can create harmony. For example, you might repeat a grouping of three plants, one vertical and two mounded, in a few parts of the garden. The vertical element might stay the same and the horizontal ones change, or all three might vary as to species but stay the same general shape and size. Or you might repeat the inclusion of a certain type of plant or a certain colour and intersperse it throughout the garden.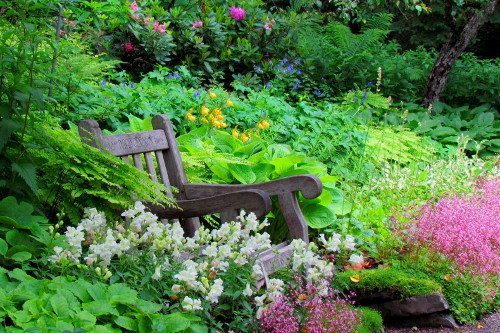 Photo: Odette Tremblay
Seasonal Flow
In choosing plants for your garden, you may want to emphasize plants that can provide more than one season of interest. For example, red-osier dogwood has flowers in the spring, nice textured leaves and interesting fruit in the summer, and brilliant fall foliage and fiery red stems throughout the winter.
Evergreens provide year-round colour and should be included in any wildlife-friendly garden. However, many plants can provide winter interest if given the chance. Purple coneflowers look very attractive with their seed heads covered in frost. Try leaving your perennials for the winter to see if their stems and seed heads add interest to your garden through the winter months. This gives the added benefit of providing seeds for birds during the harshest months.
For bloom colour, be sure to provide blooms in every season. Create clusters of plants that bloom together and weave them throughout the garden. This will give a better overall feel than spreading them too thin or putting all your season's bloomers in one bed that will look barren for the rest of the year.
Rock, Logs and Water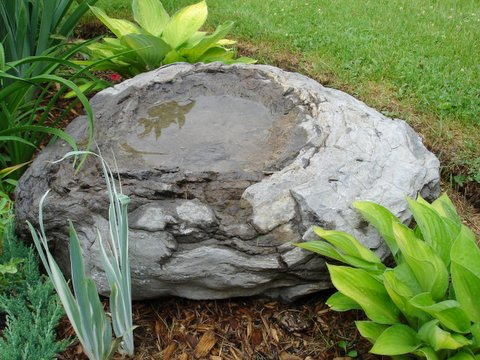 Photo: S.V Fotinov
These elements can add great wildlife value and plenty of visual appeal to any garden. It is best to partially bury rocks and logs to make them look as though they belong in the garden. The last thing you want is a large rock that looks as though it has been placed arbitrarily, instead of looking like part of the landscape.
Play with your rocks to find their most appealing angle. As with plants, they will look better in groups of three or five than on their own.