Winter complicates all this for wildlife. Snow and ice cover up food and water; while biting winds, frigid temperatures or blizzards drain animals of precious energy and make it even more difficult to find crucial shelter.
Some animals adjust their habits in order to cope with winter. Without tender plants to nibble, creatures such as deer, rabbits and elk, make do with twigs and bark. Beaver store bark in their lodges, while other animals stock up and hide seeds and nuts in winter caches.
Keeping warm can be a big problem. Some species migrate and others hibernate to escape the big freeze. Those that stay active all winter, adapt in many ways. Mammals grow thicker fur coats, and birds, like ptarmigan, fluff out with more feathers for insulation. Ladybird beetles sometimes huddle together in a sheltered spot for warmth, so do many other animals.
Some bird species conserve heat with a counter current heat exchange system. Arteries that carry warm blood to the feet are very close to the veins that carry cooler blood from the feet to the body. Because the two vessels are so close together, the warm blood warms the cold blood so that the bird loses very little heat. That's why a bird's skinny feet and legs don't freeze in winter!
The colder it is, the more energy it takes to stay warm. This means that if animals must use more energy than usual to find food, or to run from predators, they are in more danger of dying from the cold.
Learn how a few Canadian species figured out this freezing problem:
Feature Species: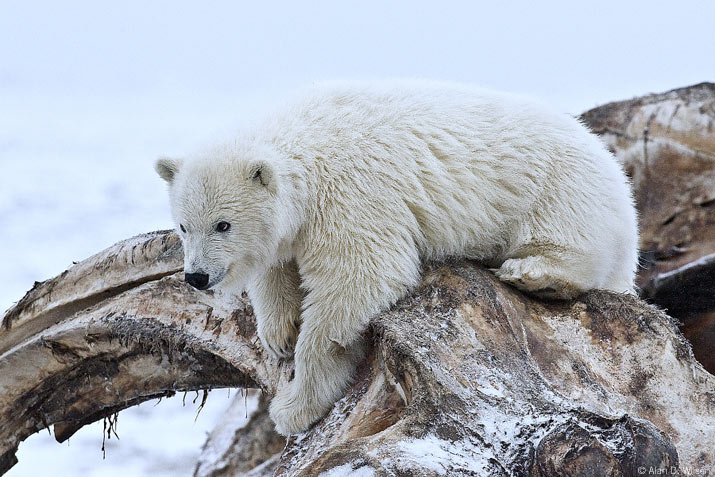 Polar bears prefer to live in areas near sea ice to catch their favourite prey, ringed seals. Because of this, some subpopulations face long-term threats due to climate change. As the water gets warmer each year, the ice shrinks, making it difficult for polar bears to hunt enough seals to survive.
All winter the beavers bring sticks from their underwater cache into the feeding chamber of the lodge to gnaw the succulent bark.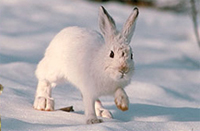 Well-adapted to its environment, the snowshoe hare travels on large, generously furred hind feet, which allow it to move easily over the snow. The snowshoe hare's ears are smaller than most hares'. The ears contain many veins, which help to regulate body temperature.