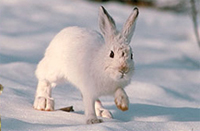 Scientific Name:
Lepus americanus
Description:
The snowshoe hare one of our commonest forest mammals, is found only in North America.
Well-adapted to its environment, the snowshoe hare travels on large, generously furred hind feet, which allow it to move easily over the snow. The snowshoe hare's ears are smaller than most hares'. The ears contain many veins, which help to regulate body temperature.
A seasonal variation in fur colour is another remarkable adaptation: from grey-brown in summer, the fur becomes almost pure white in midwinter.
Photo Gallery:
(Please note — these photos are unverified images submitted by members of the CWF Photo Club.)

Range:
The snowshoe hare is found in every province and territory in Canada.
Habitat:
It lives in the boreal forest and the southern extensions of this forest, along the Appalachian Mountains in the east and the Rocky and Cascade mountains in the west. To the north, it reaches the Arctic Ocean in the willow swales, or depressions, of the Mackenzie River delta.
Diet:
Snowshoe hares consume a variety of herbaceous plants during the summer, including species like vetch, strawberry, fireweed, lupine, bluebell, and some grasses. They also eat many leaves from shrubs. Their geographic range is so large that snowshoe hares in different regions may have completely different diets, depending entirely on the local forest type.
Behaviour:
Snowshoe hares start breeding during the spring after their birth. The breeding season begins about mid-March with courtship parades. Each female is receptive to males for about 24 hours, first in March, and then the day after giving birth to each litter—two to four times during the summer.

The gestation period lasts 36 days. Litters contain anywhere from one to 13 young.

Snowshoe hares are born fully furred with their eyes open, and they are capable of hopping about almost immediately which is a contracts to young rabbits, which are born naked and blind. Young snowshoe hares nurse only once a day, usually in the evening, and are self-supporting at three to four weeks of age. They weigh between 45 and 75 g at birth, gain 450 g within a month, and reach the average adult weight of 1.4 kg by five months.
More on this Species:
References:
Hinterland Who's Who
---
By Terri-Lee Reid
Capable of changing its coat two times a year, the snowshoe hare is a master of disguise. In the fall, its thin summer coat of brown fur gradually transforms into a thicker, white winter coat, giving it the ability to camouflage against both summer and winter backgrounds. In the spring, the coat reverts back to brown summer fur in response to the increase in day length.
Snowshoe hares appear similar to rabbits, but can be distinguished by larger ears that help them regulate body temperature, longer legs for jumping, and their namesake — big hind feet that act as snowshoes and help them move through the snow. Snowshoe hares average between 1.2 and 1.6 kilograms; females are slightly larger than males.
Found in every province and territory of Canada, the snowshoe hare inhabits deciduous and coniferous forests with ample food supplies and understories that provide adequate protection from predators. Snowshoe hares may also be seen in fields, gardens, thickets, swamps and bogs.
Snowshoe hares are most active between sundown and sunrise. They spend their days resting and grooming under stumps or bushes, or in hollow logs. If the weather is less than favourable during their active period (windy, raining or snowing), then they may decide to stay under the protection of their cover. Snowshoe hares do not hibernate; they are active year-round.
Adult snowshoe hares fall prey to many predators, including coyotes, foxes, mink, lynx, hawks and owls; squirrels are the main predators of young. To protect themselves when they sense danger, young snowshoe hares typically stay motionless to blend into their background, but the usual adult strategy is to flee and confuse the predator by darting in all directions. Adults can travel up to three metres in just one bound and can reach speeds up to 45 kilometres per hour.
The birthing season for snowshoe hares typically lasts from March until August. Females may give birth to as many as four litters in a year. After mating with several males, females usually give birth to their first litter following a 36-day gestation period. First litter sizes are typically small at three to four young, but later litters may have between four and seven.
When ready to give birth, the female retreats to an area of previously prepared packed-down grass. Newborns are fully furred and their eyes are open as opposed to rabbits, which are born with no fur and closed eyes. Receiving care from only the female, the young are able to move around quite quickly after birth and nurse only once a day, typically in the evening. Snowshoe hares develop quickly. Weighing only 75 grams at birth, after 30 days they have gained 450 grams and are ready to leave the nest. They attain adult weight in five months and are fully mature within a year. Snowshoe hares do not live long lives; most do not survive past their second year of breeding. There are population fluctuations with peaks occurring about every nine or 10 years.
The diet of snowshoe hares varies depending on the season. In the summer they forage on vegetation that includes grasses, fireweed, vetch, lupine, clover, dandelion and strawberry. In winter, they turn their attention to twigs, bark and buds from both coniferous and deciduous trees and shrubs. They have also been known to feed on the remains of dead animals, but this behaviour is rare.
Snowshoe hares don't make a lot of noise. Most of their communication to each other is achieved by thumping their hind feet on the ground. They do make a snorting sound when annoyed, or a loud, high-pitched squeal if captured.
People commonly display a range of reactions when snowshoe hares visit their backyards. Some people find it amusing to watch the hares go about their daily business, while others find it frustrating that they forage in personal gardens or on trees and shrubs.
If you would like to provide some habitat for snowshoe hares on your property there are a number of things you can do. Cover is very important to showshoe hares. By providing areas of dense groundcover, shrubs and trees, you allow them to stay safe from predators as they search for food. An open area with native plants such as aster, fireweed, lupine, wild strawberry, bearberry and grasses, will provide food over the summer and into the fall. Be sure to plant extra so there's some left for your enjoyment. Coniferous and deciduous trees, such as aspen, birch, maple, willow, fir, cedar, hemlock and spruce, will not only provide food sources in the winter but also cover from predators and unfavourable weather conditions.
To protect the bark of any special trees and shrubs from girdling by showshoe hares use protective tree wrap or wire mesh. For further protection from possible damage by these or other creatures, you can find more suggestions in our Banishing Bothersome Beasts section.