The best way to learn about shorelines — and to understand why we need to conserve them — is to visit one, whether it's a riverbank, lakeside, sea coast, or another place where land meets water. Chances are your area has a shoreline close by that is worth exploring as a future habitat project site.

Here's how to make the most of your field trip:
Bring yourself up to speed on the value of shorelines to living things and what we must do to keep them healthy. See the student resource sheet "Ribbons of Life".
Find a location. Get suggestions from your classmates, parents, community members, or a conservation authority for a shoreline in your area that needs attention. Pinpoint its location on a local map.
Get permission from a landowner or your municipality before visiting the site.
Discuss safety rules with your class. Take extra care on waterfronts or in wooded areas. Never let students enter water. Recruit older students, parents, or community volunteers to maximize safety.
Pack necessities, such as sun block, insect repellent, a first aid kit, appropriate clothing and footwear, binoculars, magnifying glass, thermometer, tape measure, and field guides to birds, mammals, plants, and other shoreline species. Bring a compass and topographical map if you plan to visit a remote location.
Practise shoreline etiquette. When you visit a shoreline, you're visiting the homes of wild things. Tread lightly on banks and avoid trampling mosses, lichens, snails, and fragile nests. Never pick plants or berries or leave trash. Do not handle bird eggs or wildlife young.
Divide into teams of five or six students, each assigned specific tasks, such as surveying animals and plants along 50-m sections of shoreline, evaluating contrasting sections of waterfront (possibly one developed and the other wild, one a swift stream and the other a shoreline marsh), or collecting data on particular habitat elements (food, water, shelter, space) in a larger site that is representative of the whole shoreline.
Record your observations using the "Shoreline Habitat Report Card". Keep an eye out for signs of healthy habitat or problems, such as pollution and erosion. Try sitting quietly in a sheltered spot. List species you see, such as dragonflies, turtles, trout, great blue herons, and muskrats, as well as any food webs that exist among them.
Take a deep breath. Enjoy the wonders of nature. You can also record observations in poetry, stories, journals, sketches, paintings, and photographs.
Map the shoreline and surrounding area where potential projects could occur. Indicate such characteristics as the waterfront, buffer strip, upland forest, littoral zone, sand dunes, roads, buildings, and farms.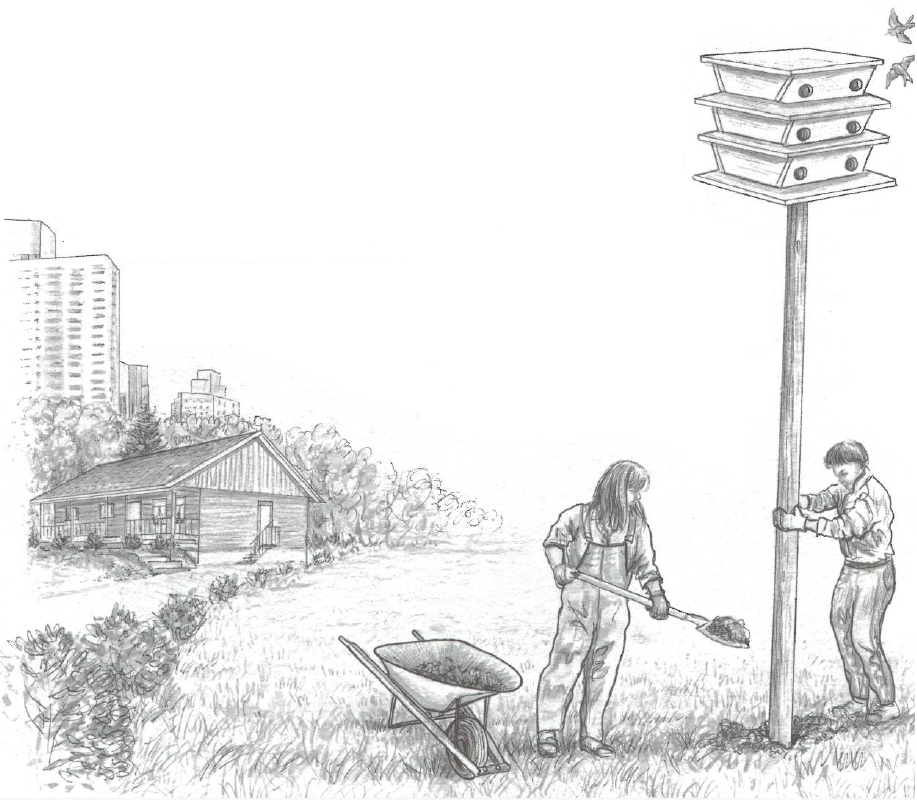 Copyright Notice
© Canadian Wildlife Federation
All rights reserved. Web site content may be electronically copied or printed for classroom, personal and non-commercial use. All other users must receive written permission.