Use this report card to keep track of signs of good or ill health along a shoreline. Circle 1, 2, 3, 4, or 5 (1 = low, 5 = high), depending on the correctness of the statements below. If your shoreline doesn't get high grades, it may need some remedial attention. Modify this report card to suit the specific characteristics of your region.
Wildlife
You see evidence of a variety of wildlife along the shore, such as dragonflies, turtles, waterfowl, nesting songbirds, and muskrats.
Fish like trout and char abound in cooler, cleaner waters, and carp and sturgeon in warmer, muddier waters.
There are no signs of alien species, such as purple loosestrife, European frog-bit, or zebra mussels.
There is evidence of working food webs — e.g., a great blue heron eating a frog, a hare eating grass, a leaf chewed by an insect.
Vegetation
Along the shoreline, there is a buffer strip of healthy vegetation at least 30 m wide.
The buffer strip includes a wide variety of trees, shrubs, wildflowers, and grasses, in all stages of birth, growth, death, and decay.
Native plants, such as red-osier dogwood, green alder, and Virginia creeper, grow in profusion.
Lush, overhanging vegetation partly shades the water's edge.
Aquatic plants, like bulrush, sedge, and pickerelweed, grow in shallow waters.
Flood Plain
Undercut banks (see illustration below) are abundant along the shoreline.
Along the banks, there is little or no erosion; that is, the earth has not been stripped bare.
Livestock do not graze along the shoreline, polluting the water with their waste and causing the banks to cave in from their weight.
Land has not been tilled to the water's edge for crop production.
Water
The waterway is free of litter, such as plastic debris, oil drums, and car engines.
There is no evidence of water pollution — e.g., a sewer outlet pipe, rotten egg smell, green water (indicating an algal bloom caused by fertilizer run-off), muddy water (suggesting a build-up of sediment), a shiny film (evidence of oil contamination), or an orange or red coating (hinting that a factory may be dumping pollutants).
Structural Diversity
Diverse habitats, including rock and brush piles, nesting cover, snags (standing dead trees), and dead falls (downed trees), are present on land; pools, runs, riffles, marshes, boulders, and woody debris exist in the water.
Human Impacts
Industries, housing developments, parking lots, roads, dikes, docks, concrete retaining walls, illegal dumping areas, and mowed and pesticide-treated lawns are absent or at a good distance.
Your group's visit to the shoreline has had the lowest possible impact on the site.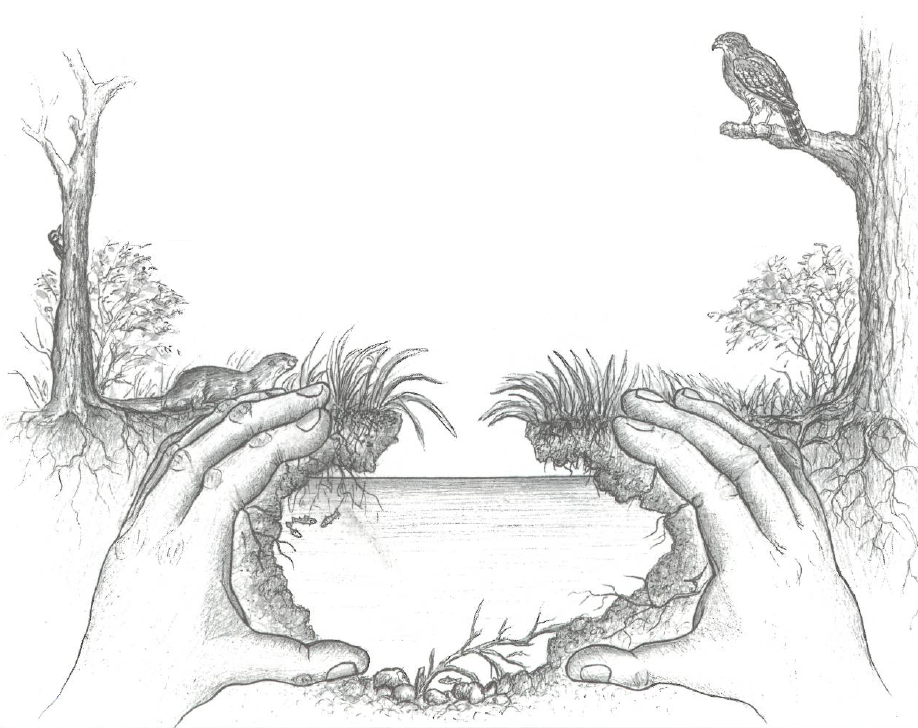 Copyright Notice
© Canadian Wildlife Federation
All rights reserved. Web site content may be electronically copied or printed for classroom, personal and non-commercial use. All other users must receive written permission.